Facelift for Men
Consultations offered at our six convenient locations in NYC, Long Island, Southampton, Smithtown, Scarsdale, NY and Boca Raton, FL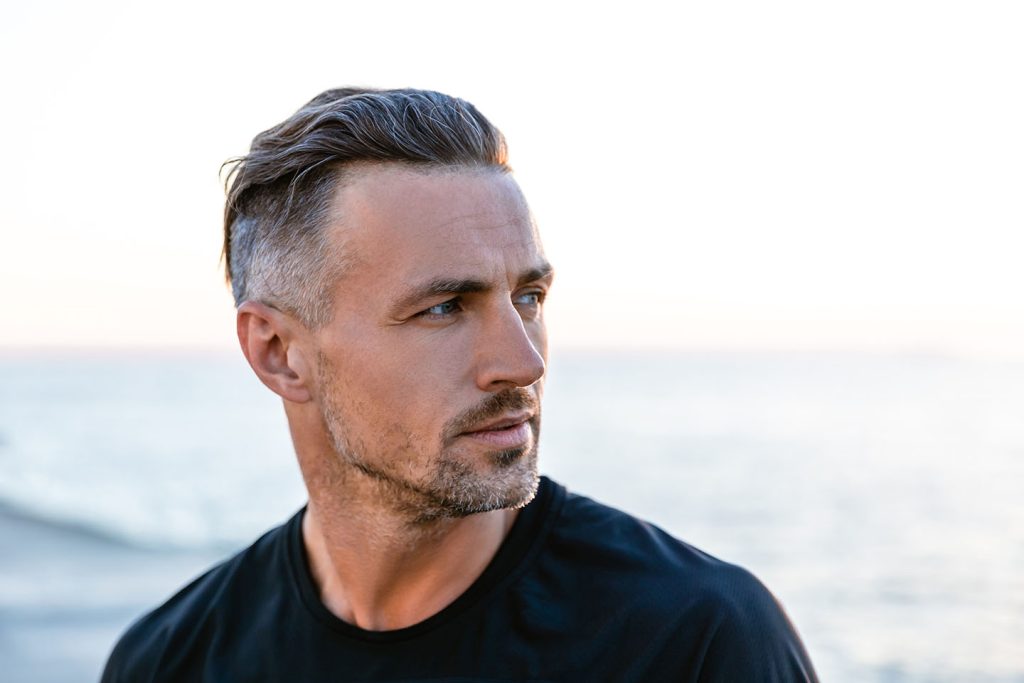 Stephen T. Greenberg, M.D., F.A.C.S provides facelift surgery for men at our Long Island, NY, practice to help men achieve a more defined, chiseled jawline that highlights their strong facial features. Dr. Greenberg's experience as a nationally renowned, board-certified cosmetic plastic surgeon can help patients achieve very natural results in a comfortable environment.
Benefits of a Face Lift for Men
Our male patients who have undergone this procedure notice a younger-looking and rejuvenated appearance in about two weeks, with a more defined jawline and chiseled facial features. When performed by an expert plastic surgeon like Dr. Greenberg, a facelift is able to provide long-lasting and natural-looking results.
Ideal Candidate
Men and women have different wants and needs when it comes to a facelift. Men typically want to maintain a masculine and rejuvenated appearance, focusing on excess skin and fat under the chin, eyelids, and jawline. This procedure is beneficial for men in good overall health desiring:
A stronger-looking jawline
Squared facial features
A more pronounced chin
A more masculine appearance
Expectations
A facelift for men is an increasingly popular procedure in the cosmetic plastic surgery industry providing successful results for men of all ages. This procedure is performed under general anesthesia in our private, state-of-the-art facility under the masterful care of Dr. Greenberg.
Incisions will be made inconspicuously around the ear and inside the hairline to carefully conceal scars. Using special surgical maneuvers and techniques, Dr. Greenberg will reposition facial muscles, tighten skin, and remove excess fat and tissue in the areas discussed during your consultation.
For a more dramatic enhancement, Dr. Greenberg can also combine your facelift with chin implants and liposuction. At Greenberg Cosmetic Surgery, we provide an extensive list of procedures and treatments just for men to better serve our clientele.
Male Facelift Recovery and Results
Once the procedure is complete, Dr. Greenberg will close the incisions with sutures and apply bandages. You will wear a strap around your head for a few days to minimize swelling. Most patients are able to go home on the same day as the procedure with a family member or friend.
Following the post-surgical instructions given to you during your consultation will ensure you achieve a successful recovery and desired results. Your instructions will include:
Taking prescribed medications
Resting with your head elevated
Avoiding vigorous activity
Keeping the surgical site clean
Avoiding saunas, pools, and hot tubs
Minor swelling and bruising are common for the first week or two but will gradually subside. Most patients are able to return to normal activity within the first week, depending on their recovery and how quickly they heal. Having this procedure performed by Dr. Greenberg will reduce your chance of complications and give you the privacy you need to achieve impressive results.
Cost
Each male facelift performed at Greenberg Cosmetic Surgery and Dermatology is personalized based on the unique needs of each patient. The cost will be based on several key factors including the extent of the work required. Our team can go over the price of your male facelift, as well as the payment and financing options available to you.
Contact
If you are interested in rejuvenating your appearance and enhancing your masculine facial features, Dr. Greenberg can help you achieve natural-looking results with an inconspicuous facelift for men. Contact our practice today to schedule your consultation.
The boost in self-confidence that comes from a male facelift can result in greater success in the workplace and improved quality of life.