Arm Lift
Consultations offered at our six convenient locations in NYC, Long Island, Southampton, Smithtown, Scarsdale, NY and Boca Raton, FL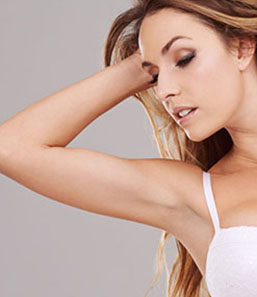 Are you in need of an upper arm lift? Losing weight can be a rewarding experience that can significantly boost your self-esteem, however, many patients are left with large amounts of sagging skin that detract from their results. Age and genetics can also lead to significant sagging skin.
For patients with excess skin under their upper arms, an arm lift, or brachioplasty, is often recommended to remove the tissue for a more toned appearance. Stephen T. Greenberg, M.D., F.A.C.S is an exceptionally skilled plastic surgeon who can provide natural-looking surgery to patients in Long Island and Manhattan, NY.
Procedure
Patients that have lost substantial weight or have excess skin that hangs underneath their arms are great candidates for an arm lift. Dr. Greenberg offers the procedure to remove the extra skin to help patients achieve tighter, more toned arms. The treatment is often combined with Smart Liposuction for the very best results.
Ideal Candidate
If you are unsatisfied with the appearance of your upper arms, an arm lift may be the solution to help you feel more confident. Patients who wish to undergo an arm lift should be committed to a healthy diet and exercise regimen to maintain their weight. This commitment is imperative as substantial or consistent weight fluctuation can lead to the development of excess fat and skin in the future.
Additionally, overall health is an important aspect of any surgical treatment. Those with medical conditions that may conflict with the healing process as well as smokers may not be good candidates for this procedure. Patients at a higher risk for complications will be extensively evaluated to ensure their safety.
The Process
Typically, an arm lift procedure will take about one to two hours. Before your treatment, you will be provided with anesthesia to ensure your comfort. To begin, Dr. Greenberg will make an incision in the underside or back of the upper arm. Depending on the extent of concerns being addressed, the incision may extend from the armpit to the elbow. Dr. Greenberg will ensure that your incisions are placed in the most inconspicuous location possible.
Next, the unwanted fat and skin are removed. In some cases, this procedure may also be combined with liposuction for optimal results. The supportive tissue is then contoured for the best aesthetic results. Once the ideal shaping and smoothing have been achieved, Dr. Greenberg will tightly suture the incision closed
Recovery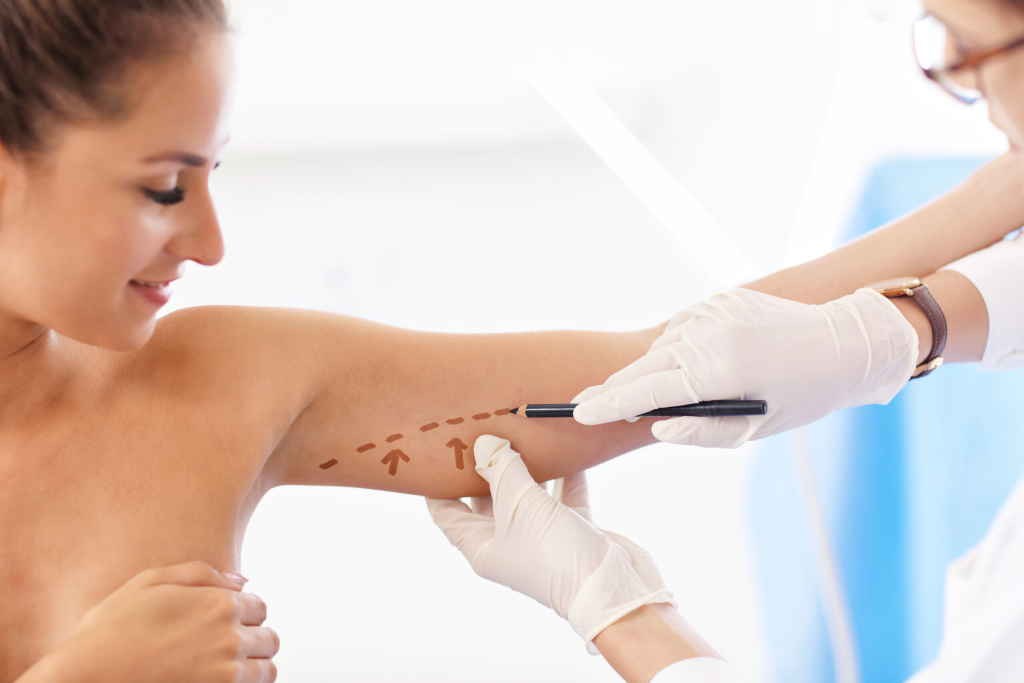 Following your arm lift, our team will monitor your condition as you recuperate in our recovery room. Once you have recovered from the effects of anesthesia, you can return home, though you will need to have someone who can drive you home. About one to two days later, you will return to our facility to ensure that there are no complications and that you are healing properly. You will also be provided with a compression garment which should be worn until Dr. Greenberg advises otherwise.
Cost
Each patient is unique, so it is necessary to schedule a consultation to receive an exact estimate for your arm lift surgery. Costs will be based in part on your proportions and your treatment goals. Some patients have a small amount of skin removed, while bariatric weight loss patients may require more extensive contouring. Patients with accumulated fat pockets may choose to utilize liposuction in conjunction with arm lift surgery.
Other factors that contribute to costs for these types of procedures include anesthesia, which is administered by a certified anesthesiologist. Dr. Greenberg offers in-house surgery. Ambulatory surgical centers in our Manhattan and Long Island locations help keep total treatment costs down.
When financing is a concern, our staff can assist you to arrange an affordable payment plan for your desired treatment. Credit cards are accepted, and CareCredit℠ offers interest-free financing for patients who qualify.
Contact
If you would like to schedule an arm lift consultation with board-certified plastic surgeon Dr. Greenberg at one of his New York or Florida office locations, please contact Greenberg Cosmetic Surgery today.