Blepharoplasty
Consultations offered at our six convenient locations in NYC, Long Island, Southampton, Smithtown, Scarsdale, NY and Boca Raton, FL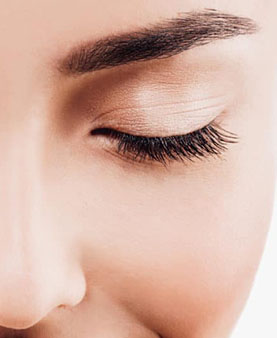 Also called blepharoplasty or an eyelid lift, eyelid surgery is meant to refresh the eye area by targeting droopy skin and other concerns. At Greenberg Cosmetic Surgery and Dermatology, our board-certified plastic surgeons are masters in this delicate procedure and are widely recognized as top providers of eyelid surgery in New York City, Westchester, and Long Island.
Before and After Photos
Our exemplary medical team is committed to delivering well-rounded and personalized care at every step of the blepharoplasty treatment process, so our patients can enjoy a more youthful facial appearance.
What Is Eyelid Surgery?
Blepharoplasty is used to remove or reposition excess fat and eliminate extra skin from a patient's eyelids to achieve aesthetic and/or functional improvements. Eyelid surgery can address congenital and age-related concerns in this area of the face.
Often, blepharoplasty is performed to target unwanted changes in fat distribution and lost skin elasticity that patients notice as they age. Common reasons patients opt for eyelid surgery include:
The protrusion of fat and skin
Puffiness occurring or worsening over time
Excess skin partially blocking the patient's peripheral vision
Droopiness that reveals more white than average below the iris
An eyelid lift can be done on just the upper eyelids (upper blepharoplasty), just the lower eyelids (lower blepharoplasty), or both at the same time. In some cases, a patient may benefit from treatment on only one eye or one eyelid.
Ideal Candidate
Ideal candidates for eyelid surgery are in good overall health and without other serious eye conditions. Patients often choose this procedure to restore a younger-looking appearance in the most noticeable part of the face.
While an eyelid lift can alleviate puffiness and bags around the eyes, it is not used for crow's feet and other lines and wrinkles in that area. However, we often pair blepharoplasty with laser resurfacing or dermal filler injections for a comprehensive cosmetic eye treatment.
Consultation
During your initial consultation, you'll sit down one-on-one with either Stephen T. Greenberg, MD, FACS; Jason M. Weissler, MD; Stephanie A. Cooper, MD. First, he or she will examine your facial structure and tissue with special attention to the eye area.
Your surgeon will also listen to your aesthetic goals and carefully review your medical history to determine if eyelid surgery is the safest and most effective treatment option for you. If you are a good candidate for an eyelid lift, you will be provided with specific instructions to follow leading up to the procedure.
Preparation
Your pre-op directions will be personalized but will also detail general requirements, including to:
Stop smoking at least a month beforehand
Adjust your medications as directed
Enlist someone to drive you home after surgery
Remove your contacts before coming in for the operation itself
Expectations
Your eyelid surgery will take place in one of our accredited outpatient facilities or a hospital. First, you will be given general anesthesia or a combination of local anesthesia and intravenous sedation.
Next, your surgeon will perform the required incisions. For upper eyelid surgery, he or she makes a small incision in the eye crease between the upper eyelid and below the brow. For the lower eyelid, the incision is created either just below the lower lashes or inside the lid. These locations allow for discreet post-surgical marks.
Your surgeon can then excise surplus skin and remove or reposition fatty tissue in the eye area. Once all changes are complete, he or she will close the incisions with tiny stitches and apply bandages as needed.
Post Procedure Expectations
Eyelid surgery is typically an outpatient procedure, so you should be able to go home a few hours later. A lubricating ointment may be applied to your eyes, so you might experience some blurry vision during this time. Your stitches will be removed at your follow-up appointment in four to six days.
During the first week of recovery, minimal swelling, discoloration, and discomfort may occur. You should wear dark sunglasses to protect your eyes and eyelids from the sun and wind. Continue to not wear contacts until two weeks post-op or as instructed. Most patients return to work in four to ten days but must avoid intense exercise for about one month.
The majority of eyelid lift patients experience full results one to three months after surgery. Lower eyelid surgery rarely needs to be repeated, but droopiness in the upper eyelids can sometimes reoccur five to seven years later. In both cases, using sunglasses and taking good care of the skin can extend the benefits of this procedure for a long time.
Cost
The price of your blepharoplasty procedure will be calculated during your consultation based on:
Whether upper blepharoplasty, lower blepharoplasty, or a combination of upper and lower blepharoplasty is needed
The extent of skin and fat removal and repositioning involved
Facility and anesthesia fees
Medications
Contact
Contact Greenberg Cosmetic Surgery and Dermatology if you're interested in eyelid surgery alone or as part of a more extensive set of rejuvenation goals. We'll schedule an appointment for you with one of our esteemed plastic surgeons to discuss the treatment plan that would be right for your individual needs.
FAQ
UPPER EYELID SURGERY
Upper Eyelid Surgery Can Enhance Function and Appearance
If you have begun to look aged because of sagging eyelids, we can offer effective, safe blepharoplasty procedures to rejuvenate your appearance. An upper eyelid surgery performed by renowned surgeon Stephen T. Greenberg, M.D., F.A.C.S at our Long Island, NY, practice can lift drooping eyelids to help you appear younger and more alert. Dr. Greenberg has performed thousands of plastic surgery procedures, and can use his experience and innovative approach to provide you with superior results that emphasize your natural beauty.
BENEFITS
As we age, our upper eyelids naturally begin to sag and droop. Unfortunately, this can make us look older and tired. Sagging skin and excess fat deposits can also impede vision. Upper eyelid surgery can provide excellent results with a less invasive procedure than other facial surgeries. You can achieve a significantly improved appearance without the longer surgery and recovery time and cost associated with a full facelift. With Dr. Greenberg's expertise, you can also achieve a noticeably younger-looking appearance.
INSURANCE COVERAGE
If you are undergoing your blepharoplasty for solely cosmetic reasons, you will typically not be able to receive any coverage from insurance. However, if drooping eyelids have begun to impede your vision and affect your quality of life, insurance may cover some, if not all, of the cost of the procedure. You can meet with Dr. Greenberg to determine what insurance may cover. Our team is happy to work with you to try and maximize your coverage.
Our practice has incorporated innovative laser resurfacing with many of our blepharoplasty procedures to correct crow's feet and other lines and wrinkles that this procedure does not address.
SURGERY PROCEDURE
For your procedure, we can administer a local anesthetic with sedation or general anesthesia for your comfort. If you receive general anesthesia, we will have a board certified anesthesiologist present to monitor your dosage and vitals during the procedure to ensure your safety. The procedure is performed on an outpatient basis at one of our ambulatory surgery centers, and should only take one to two hours. The exact position of your incisions will depend on your individual needs. However, Dr. Greenberg typically addresses upper eyelid concerns through the eye crease. Once he has made a conservative incision, he will remove any excess skin and fat to smooth and tighten your upper eyelid. Then he will place tiny stitches, which will typically remain for four to five days. You should be able to return to work within a few days, but may experience some swelling and bruising for four to ten days.
ADVANCED TECHNOLOGY AND METHODS
Dr. Greenberg is dedicated to helping each patient achieve the best aesthetics possible for their case. He strives to provide natural-looking results using advanced techniques and state-of-the-art technology. Our practice has incorporated innovative laser resurfacing with many of our blepharoplasty procedures to correct crow's feet and other lines and wrinkles that this procedure does not address. Dr. Greenberg is also renowned for his precision and skill. He can tailor your treatment to enhance your unique features for lasting, natural-looking results.
REJUVENATE YOUR APPEARANCE
At Greenberg Cosmetic Surgery, we are dedicated to providing patients with the best treatment and results. Contact our team today to schedule a consultation and begin planning your transformation.
LOWER EYELID SURGERY
Lower Eyelid Surgery Can Rejuvenate Your Appearance
Sagging skin beneath the eyes can cause patients to look aged and tired, impacting their overall appearance. At our Long Island, NY, practice, Dr. Stephen T. Greenberg can perform lower eyelid surgery, or blepharoplasty, to remove excess tissue for more youthful, revitalized features. Combining his attention to detail with technical precision, Dr. Greenberg can deliver exceptional results while minimizing scarring. Unless the procedure is medically necessary, insurance generally does not cover blepharoplasty. To make treatment more manageable and affordable, we accept financing through CareCredit®.
WHAT IS LOWER EYELID SURGERY?
Lower eyelid surgery is designed to address the tissues and muscles around the lower eyes. Aging, stress, heredity, and environmental factors can cause the eyes to appear chronically tired and worn. This facial cosmetic surgery serves a variety of purposes and can correct a number of issues, including:
Bags under the eyes
Sagging lower eyelids
Excess skin and tissue
Fine lines and wrinkles under and around the eyes
Hollowed areas under the eye
If you desire, Dr. Greenberg can combine this procedure with upper eyelid surgery or dermal fillers to enhance your results even further.
ESTABLISHING CANDIDACY
To qualify for this procedure, it is important to have a healthy immune system and realistic expectations. During your consultation, Dr. Greenberg can perform a thorough examination and review your health and cosmetic goals to ensure you are a candidate. He can then design your custom treatment plan. To better prepare you for surgery, we can provide a list of pre-surgical instructions to follow in advance.
YOUR TREATMENT
Your surgery will take place in our fully-accredited ambulatory surgical facility. We can administer anesthesia to ensure your comfort. Most often, we perform this treatment under local anesthesia, however we can provide stronger sedatives if necessary. During treatment, Dr. Greenberg can make a small incision along the lower eyelashes. This allows him to access the underlying tissues of the lower eyelid, while ensuring the incision is delicately hidden. Depending on your unique desires, he can remove excess tissue from the lower eyelid and the area above the cheek. After repositioning the fat and tightening the skin, he can carefully close the incisions and apply bandages. Recovery typically takes a few weeks, but we can monitor your progress throughout this time to ensure you are healing well.
Combining his attention to detail with technical precision, Dr. Greenberg can deliver exceptional results while minimizing scarring.
BENEFITS OF LOWER EYELID SURGERY
By removing and smoothing the tissues under the eyes, patients can rejuvenate their entire appearance. As one of the more noticeable facial traits, your eyes play a significant role in how others view you. When eyes are puffy and wrinkled, it can make you appear older and tired. However, well-contoured eyes can help you achieve a youthful, healthy, and refreshed glow. Undergoing this treatment can boost your self-esteem and in turn improve your quality of life.
SCHEDULE YOUR CONSULTATION
If you are unhappy with the appearance of your eyes, please contact our office today online or by calling 844-568-6717 to schedule your consultation with Dr. Greenberg. Our team at Greenberg Cosmetic Surgery offers the highest level of care and is committed to helping you achieve your cosmetic goals.
EYELID SURGERY COST
Factors Affecting Eyelid Surgery Cost
Drooping, tired-looking eyelids can take a significant toll on your appearance. In some cases, they can obstruct your vision. Blepharoplasty, or the surgical refinement of the eyelids, can be a wise investment if you are concerned with the state of your eyelids. This procedure involves removing excess skin, muscle, and fat from the upper or lower eyelids, and lifting remaining tissue to provide a much improved appearance and unobstructed vision. Stephen T. Greenberg, M.D., F.A.C.S can help you understand eyelid surgery cost during a consultation at his Long Island-area practice. We offer financing options to place the cost of blepharoplasty within your budget. To learn more, please contact us today.
EYELID REJUVENATION
As we age, the skin around our eyes begins to lose elasticity and muscle tone, resulting in droopy eyelids and the appearance of puffy bags under our eyes. Eyelid surgery can remove the excess tissue and rejuvenate the skin around your eyes, leaving you looking more refreshed and alert. Your customized surgery can treat the lower eyelids, the upper eyelids, or both, depending on your individual needs. This procedure involves only small incisions that result in easily concealed scarring, giving you a natural-looking rejuvenated appearance.
FACTORS AFFECTING THE COST OF BLEPHAROPLASTY
As with most plastic surgery procedures, the cost of blepharoplasty is different in virtually every case because no two patients have the same needs and goals. Factors that always affect cost include:
Surgeon's Fees: Generally speaking, more experienced surgeons who consistently provide beautiful results will charge higher fees than surgeons who are less experienced or less reputable. By choosing a surgeon like Dr. Greenberg, you are most likely to achieve the amazing results you desire and deserve.
Facility Fee: Dr. Greenberg is able to keep these costs low by having his own in-office ambulatory surgery centers in Manhattan and Long Island.
Anesthesia: In order to maintain your comfort during treatment, a certified anesthesiologist will be on hand to administer anesthesia during your treatment.
Medications: You may require pain medication, antibiotics, of artificial tear drops, depending on your individual needs.
Post-surgical Recovery Items: Occasionally, patients will require cold compresses for the eyes, foam wedge pillows, dark sunglasses, or other items to help make the recovery period as comfortable as possible.
INSURANCE AND FINANCING
Cosmetic eyelid surgery procedures are not typically covered by insurance, but we excel at helping patients determine how to make the cost of surgery manageable. If the surgery is addressing drooping eyelids that are affecting your vision, your health insurance may cover a portion of the cost. If your goals are purely cosmetic, or if you would like additional refinements beyond what insurance will cover, we are ready to work with you. We accept cash and credit cards, and offer CareCredit℠ financing options to put the cost of treatment into manageable payments.
THE GREENBERG COSMETIC SURGERY ADVANTAGE
Dr. Greenberg's attention to detail and commitment to safety consistently result in optimal patient outcomes. He is a respected authority on plastic surgery who is often tapped by the media to provide expert commentary. When you schedule your eyelid procedure at Greenberg Cosmetic Surgery, you can be certain that you are making a worthwhile investment in your quality of life.
SCHEDULE AN EYELID SURGERY CONSULTATION
If you would like to learn more about the eyelid surgery procedure, or if you have additional questions about the cost, please contact our office to make an appointment with Dr. Greenberg.