Blepharoplasty
Consultations offered at our six convenient locations in NYC, Long Island, Southampton, Smithtown, Scarsdale, NY and Boca Raton, FL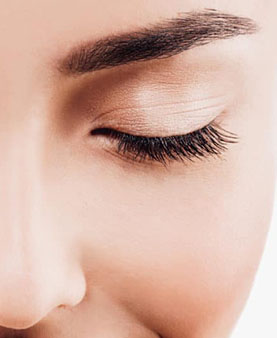 An eyelid lift, also called a blepharoplasty, is a surgical procedure to remove excess skin and fat around the eyes, promoting a refreshed, alert appearance. Skin sagging, wrinkles, and other signs of aging are inevitable in all parts of the body, but the eyes play an incredibly important role- they're the first thing about us that others notice. With an eyelid lift, you can highlight the natural beauty of your eyes and present your best self to the world. 
Before and After Photos
At Greenberg Cosmetic Surgery and Dermatology, your satisfaction and safety are our topmost priorities. Our caring team of skilled plastic surgeons and knowledgeable staff can guide you through what an eyelid lift can accomplish for your overall appearance. We pride ourselves on taking each and every patient through the same thorough process of evaluation, preparation, and recovery. Get in touch with one of our locations today or request your consultation online: 
About Eyelid Aging
The skin around the eyes is delicate, thin, and prone to weakening with time, sun exposure, and continual facial expressions. There are two main types of procedure that can help a person restore a more youthful appearance.
Upper Blepharoplasty
An upper blepharoplasty can reduce skin that has folded over and drooped further over the eyelids than is practical or aesthetically pleasing. People who seek this type of eyelid surgery usually have cosmetic, functional, or a mixture of problems with their upper eyelids that result in a heavy, tired look or "constant frown". Upper blepharoplasty surgery enables patients to look more refreshed and alert, with scars carefully hidden in the natural crease of the eyelid.
Lower Blepharoplasty
A lower blepharoplasty tightens tissue and reduces the puffiness underneath the eye. Lower eyelid puffiness occurs due to two reasons: the breakdown of collagen in the dermis layer and the expansion of the orbital fat pad with age. (1) Collagen is a critical component of the skin's rigidity, so its degradation allows the fat to expand with ease. Gradually, as the fat pad increases, it can give your eyes an older, sunken look. 
Benefits of Blepharoplasty
A blepharoplasty can work wonders for patients seeking help for eyelid rejuvenation. Depending on your individual cosmetic desires, you can expect to get comprehensive results that suit your face as a whole. After this simple procedure, you can expect:
Rejuvenated, expressive eyes
Visible lid space for makeup application
Improved field of vision
Smoother, tauter skin beneath the eyes
1 hour surgery time
Significantly less downtime than a full facelift
No visible scarring
Candidates for Eyelid Surgery
The ideal candidate for this procedure is someone in good overall health without any eye conditions or problems that may impede recovery. In particular, people with diabetes, Graves' disease, glaucoma, high blood pressure, or other cardiovascular issues will need thorough evaluation beforehand. Your doctor will have to take extra steps to ensure that these conditions are well under control before performing a blepharoplasty. Candidates should also be non-smokers or they should be willing to quit for a few weeks in order to allow for an optimal recovery.
Personal Consultation
When you schedule a consultation with one of our esteemed surgeons, Dr. Stephen T. Greenberg, M.D., F.A.C.S,  Dr. Jason M. Weissler, or Dr. Stephanie A. Cooper, you will be able to voice your cosmetic concerns and have your inquiries answered. Your surgeon will take into account your unique anatomy and recommend the most appropriate and effective treatment option. To find out if you would be the ideal candidate for a blepharoplasty, request a consultation by calling us at (516) 217-8120 to reach one of our several locations in New York City, Long Island, and Florida. 
Alternatively, you can send us a message through our contact form, and we will get back to you as soon as we can. 
Preparation
In order to best prepare for your procedure, you should get an evaluation of your eye health and get a comprehensive idea of your health through blood tests. If you are a smoker, you should aim to quit about 4 to 6 weeks beforehand. Cigarettes, vapes, and other nicotine-based products negatively affect your blood circulation, which can lead to slower healing.
You will have to stop taking medications and supplements that thin the blood approximately 2 weeks before your surgery. Avoiding blood thinners is critical in order to avoid bruising and excess bleeding during surgery. Finally, you should pick up your prescriptions and doctor-recommended over-the-counter medications and make arrangements for a trusted person to pick you up after your surgery. On the day of your procedure, be sure to remove your contact lenses.
Blepharoplasty Procedure
Both upper and lower blepharoplasty procedures can be performed under general or local anesthesia with sedation, depending on the patient's needs.
Upper Blepharoplasty
For a blepharoplasty on the upper lid, your surgeon will make an incision hidden within the upper crease. This sliver of skin is then carefully removed and the remaining skin is tightened. They will also remove excess fat and tighten the orbicularis oculi, the muscle surrounding the eye socket. Sometimes, they will remove the nasal fat pad- a small fat deposit above the inner corner of the eye.
Lower Blepharoplasty
A lower blepharoplasty, or a transconjunctival blepharoplasty, requires an incision right along the horizontal opening of the lower lid. Your surgeon will then pull down the skin to modify the fat pad and tighten the surrounding skin. They may also work to tighten a layer of connective tissue known as the lower lid tarsoligamentous complex. (2)
In many cases, patients choose to receive laser resurfacing to reduce the appearance of fine lines and wrinkles in the surrounding areas at the same time as their blepharoplasty.
Recovery
Since eyelid lifts are outpatient procedures that typically only take about an hour, you'll be able to return home the same day. Your surgeon will prescribe an ointment to apply to your eyes, so you should expect to experience blurry vision. In addition, some swelling and discomfort are common during the first few days, but these can be mitigated with over-the-counter or prescription medications.
You'll also be encouraged to keep your head elevated for a few days and to use ice compresses on your eyes for a few minutes at a time- with breaks in between. During this sensitive time, you should wear sunglasses outside and refrain from exercising or sweating which may irritate the incisions. If you have a sedentary job, you will be able to return within 4 to 10 days, and you'll get your sutures removed after around one week. You will have to hold off on using contact lenses for 2 full weeks and avoid exercising for a full month.
Results
After an eyelid lift, you'll slowly begin to see your results as your swelling recedes. Within 1 to 3 months, though, you will notice final results that will last for 10 to 15 years. From your initial recovery to your daily skincare routine, you should make it a habit to use sunscreen and wear sunglasses. These items can help your skin stay glowing, youthful, radiant, and free from sun damage!
Corresponding & Complementary Procedures
For those looking to stimulate the natural production of their skin's connective proteins, the IPL photofacial laser or Botox/ other dermal fillers may be your best option. While a blepharoplasty treats sagging skin and extra fat deposits, these treatments can treat minor skin issues such as wrinkles, age spots, hyperpigmentation, pores, and more. 
Cost of a Blepharoplasty in New York
The cost of your blepharoplasty at Greenberg Cosmetic Surgery and Dermatology is dependent on the type of anesthesia requested, the extent of the surgery, facility fees, and medications required. Your surgeon will provide you with a total cost estimate at the time of your consultation.
FAQ
Are blepharoplasties covered by insurance? 
Blepharoplasties are considered cosmetic surgeries that aren't covered by insurance. If your doctor finds that your ability to open and close your eyelid impedes your field of vision, you may qualify for a ptosis surgery, which involves the shortening of the levator muscle. Ptosis surgeries are covered by insurance since they solve a functional problem. 
At what age should I get a blepharoplasty? 
You can get this procedure done at any age so long as you are healthy. Blepharoplasties can be performed on patients as young as in their 40s. 
Will a lower blepharoplasty get rid of dark circles? 
A lower blepharoplasty may not get rid of dark circles, but it will reduce the puffiness that contributes to a tired look. 
References
Goodman D, Ness S. The Role of Oxidative Stress in the Aging Eye. Life. 2023;13(3):837. doi:https://doi.org/10.3390/life13030837 
Rebowe RE, Runyan C. Blepharoplasty. PubMed. Published 2022. https://www.ncbi.nlm.nih.gov/books/NBK482381/