Brazilian Butt Lift
Consultations offered at our six convenient locations in NYC, Long Island, Southampton, Smithtown, Scarsdale, NY and Boca Raton, FL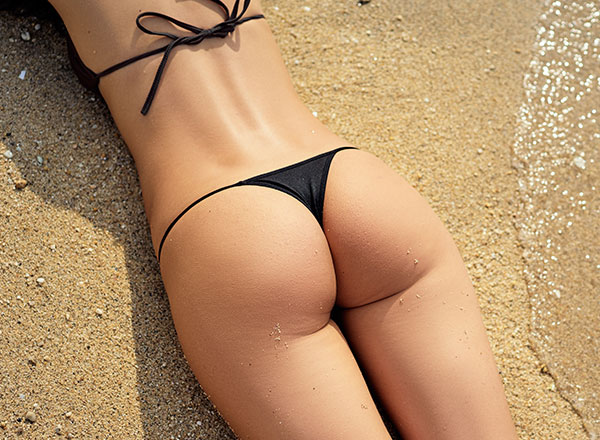 If you would like to redefine the contours of your rear end and achieve a more rounded, sexy backside, a Brazilian butt lift in New York City may be the procedure for you. Board-certified plastic surgeon, Dr. Stephen T. Greenberg, known as the best NYC BBL surgeon, can perform a Brazilian butt lift at his Manhattan and Long Island, NY practice. If you want to enlarge or reshape your buttocks, and you have discovered that you cannot do so through diet or exercise alone, a buttock augmentation, performed by Dr. Greenberg in Long Island, NY, Manhattan, NY, and Boca Raton, FL may be the solution for you.
Before and After Photos
Procedure
A Brazilian butt lift surgery NYC (BBL) is a unique procedure, different from more traditional forms of buttocks augmentation. This innovative technique provides beautiful, natural-looking results without using silicone implants or any type of foreign substance. The patient's own fat is transferred after harvesting to the butt cheeks and hips to achieve desired shape and contour.
Using liposuction to harvest fat from the abdomen, thighs, or other areas provides additional body sculpting benefits as well. With a BBL, you can trim unwanted fat to accentuate your curvy bottom and re-contour your overall shape. The end result is a more youthful, fit appearance with pleasing, proportional curves.
Ideal Candidate
Several factors can contribute to a saggy-looking posterior, including simple genetics. Some people are blessed with a naturally curvy figure, while others tend toward smaller hips and a flatter bottom. Aging and weight fluctuations can also take a toll, leaving your buttocks looking flat, deflated, or droopy. Using your own body's natural fat deposits, you can achieve a significantly enhanced figure, including a fuller, firmer behind, with minimal scarring.
Candidates for a BBL should be healthy overall and close to their goal weight, with a little excess body fat that can be used for fat transfer. At your initial consultation at Greenberg Cosmetic Surgery, the doctor can help you plan your procedure and make sure a BBL is the best butt augmentation procedure for you.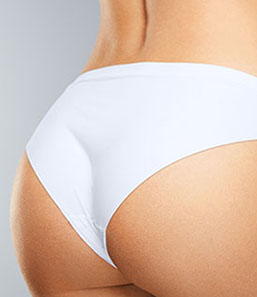 buttock augmentation contours the buttocks to compensate for low levels of fat. Women and men who enlarge their bottoms can enjoy more perky and voluptuous profiles. Augmentation may be achieved through injections of the patient's own body fat. It can also add volume and roundness to a flat or small butt for patients seeking a more balanced profile.
Generally, if you are looking for a fuller, curvier butt, buttock augmentation may be for you.
The Process
Buttock augmentation with fat transfer, also known as the Brazilian Butt Lift, involves two steps:
First, the patient's own fat is gathered through liposuction. The most popular areas for liposuction prior to buttock augmentation are the lower back, waist, flanks (love handles), thighs, and stomach. This not only provides the material for buttock enhancement, it also contours the areas around the butt for a more dramatic result.
In the second step, the donor fat is placed in the buttocks by means of tiny injections at different depths to ensure an even, attractive augmentation. This method of fat injection delivers a shapely contour. Special focus is placed on the upper buttocks so that the rear appears youthful and naturally lifted.
The BBL takes about two to three hours and is typically performed at our surgical facility as an outpatient procedure. On the day of treatment, you will be escorted to the surgical suite where you will be given appropriate anesthesia to ensure your comfort throughout the process.
This is a relatively simple type of buttocks augmentation, requiring very small incisions. Dr. Greenberg will begin by harvesting excess fat from your selected locations, usually the abdomen, thighs, flanks (love handles), and back.
Very similar to liposuction, this procedure suctions out pre-loosened fat cells using a small tube, called a cannula. The dissolved fat will then be purified to prepare it for the next step. Dr. Greenberg uses only the highest quality cells to ensure long-lasting results.
The prepared fat is injected into the buttock area in a strategic pattern designed to create the desired effect. The number of injections used, as well as the depth and volume, will vary from patient to patient. Dr. Greenberg often uses a multitude of small injections to provide the most natural, rounded appearance.
Dr. Greenberg's advanced techniques allow him to achieve optimal shape and volume for his patients. He has been performing buttocks augmentation and body contouring for many years and has an excellent reputation in New York and throughout the country.
Postoperative Care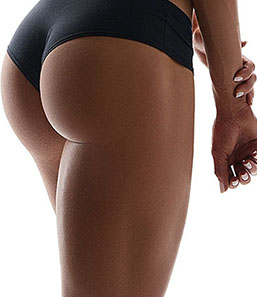 Overall satisfaction rates after a Brazilian butt lift in NYC are very high. Patients enjoy showing off their new proportions in fitted clothing, bathing suits, and intimate settings. Scarring from this procedure is very minimal.
As with any type of cosmetic surgery, BBL NYC patients can expect a recovery period that will require some downtime. Butt lift patients typically wear compression garments for about six weeks after surgery to aid healing. Dr. Greenberg and his staff closely oversee the recovery period and provide guidance, as needed.
You will receive specific post-op instructions to promote healing and help you avoid complications. After butt lift surgery, you must avoid sitting for prolonged periods of time. Typically, you can sit with a small pillow or rolled-up towel supporting your thighs, keeping weight off of your buttocks. You will need to avoid direct contact with the injected fat grafts while you are sitting or lying down.
Total recovery time varies with the individual and the extent of your unique procedure. However, most patients can return to work after two to three weeks. To maintain your results, it is recommended that you keep a stable weight since weight gain or loss will naturally change the size of transplanted fat cells.
Cost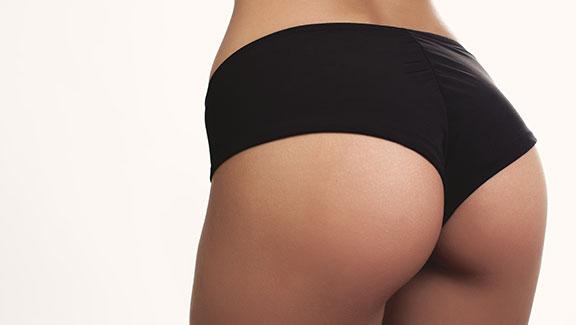 The cost of a Brazilian butt lift averages somewhere between $8,000 to $10,000 and can fluctuate based on a variety of factors. During your consultation, we can review your treatment options and provide you with a more detailed estimate based on your goals and needs, so you can budget accordingly. We provide affordable financing through CareCredit®. Using this credit card, you can make manageable monthly payments after choosing a short- or long-term plan. In addition, we also accept all major credit cards. The cost of your butt augmentation in New York or Florida will depend on the type of butt augmentation procedure being performed and the extent of the work required. Dr. Greenberg and our team will go over the expected price of your butt augmentation during your consultation. Financing options for buttock augmentation are also available.
Contact
At Greenberg Cosmetic Surgery, we celebrate beauty, and we believe that taking pride in your appearance and figure is a worthy goal. A Brazilian butt lift is a great way to redefine your rear end and boost overall body confidence. Review our Brazilian butt lift FAQs for more information, search "buttock augmentation NYC", or contact us today to schedule your personal appointment.
We can answer any additional questions you have regarding candidacy, the procedure, and the cost of treatment.
FAQ
What Is A Brazilian Butt Lift?
Also known as a butt augmentation, a Brazilian butt lift uses excess fat from another of your body, such as the thighs or abdomen, to enhance your buttocks. During the procedure, the doctor will use liposuction to remove excess fat, and then purify it with centrifuge technology. Then he will carefully inject it into your buttocks to create a perkier and more voluptuous backside.

How Long Does A Brazilian Butt Lift Last?
As long as you maintain a healthy lifestyle and normal weight range, your results will be long-lasting. Although there is a possibility of the injected fat being reabsorbed by the body, in most cases, at least 60-80% of the fat is maintained.
What Is The Difference Between A Brazilian Butt Lift And Butt Implants?
Both procedures are buttocks-enhancing surgical techniques but include different methods to achieve results. A Brazilian butt lift uses fat from another area of your body. However, if you do not have sufficient fat to perform fat grafting, you can benefit from butt implants. Dr. Greenberg offers a variety of shapes and sizes of butt implants to help you attain optimal results.
How Long Does It Take To Recover From A Brazilian Butt Lift?
Most patients can return to work and normal activity within one to two weeks after the procedure. Your recovery will depend on how diligently you follow your post-surgical instructions and how fast you heal. The key to recovery is resting and not doing too much activity too soon.
When Can I Resume Exercising After A Brazilian Butt Lift?
You can begin walking and light activity two to three weeks after the procedure. In most cases, Dr. Greenberg will release you to full physical activity six to eight weeks after the procedure, as long as you are responding well to surgery and recovering nicely. Although you may feel better sooner than you are released, it is imperative to give the fat transfer adequate time to stabilize in order to achieve desired results.
When Can I Sit After A Brazilian Butt Lift?
You will be directed to use an inflatable pillow when sitting for at least eight weeks in order to ease discomfort and help you achieve a smooth recovery. Sitting directly on your buttocks too soon will cause a disruption in the fat transfer.
When Will I See The Results Of A Brazilian Butt Lift?
Although you will see immediate results, as the swelling and bruising subside over the next few weeks, you will begin to notice greater results. Over the course of the next few months, the fat will continue to stabilize. Most patients are able to enjoy final results in about four to six months.
Who Is A Candidate For A Brazilian Buttock Lift?
Candidates for a Brazilian butt lift generally include patients who are unhappy with the appearance of their backside, due to a flat, saggy, small, or disproportionate buttocks. Before undergoing this procedure, it is imperative that you are in good overall health, have realistic expectations, and are in a healthy weight (body mass index) range with sufficient excess fat in another of your body that is able to be used for augmentation.