Breast Augmentation
Consultations offered at our six convenient locations in NYC, Long Island, Southampton, Smithtown, Scarsdale, NY and Boca Raton, FL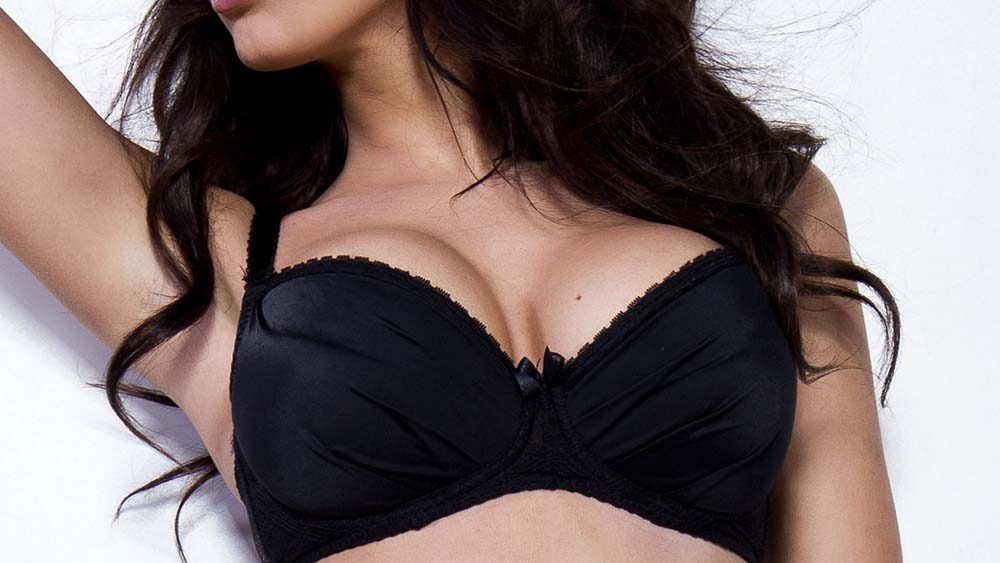 Breast augmentation is a surgical procedure that enhances the size and shape of the breasts. You can achieve the fuller, more voluptuous bustline you desire with a range of implant options that cater to your unique needs and goals. Breast augmentation, or a "boob job," is more than a cosmetic procedure – it has a significant and long-lasting impact on a woman's self-esteem. Every woman deserves to love how her breasts look, and a safe and quick procedure that lets her do so. We are proud to offer 24-hour Rapid Recovery Breast Augmentation, a technique that minimizes downtime and allows for a quicker return to your daily activities.
Our perfected mini-incision rapid recovery breast augmentation techniques offer patients a faster recovery with minimal pain, swelling, and bruising, and remarkably natural-looking results.
At Greenberg Cosmetic Surgery & Dermatology, we prioritize patient safety and satisfaction above all else. Double board-certified Stephen T. Greenberg, M.D., F.A.C.S.; Jason M. Weissler, MD; and Stephanie A. Cooper, MD are dedicated to providing you with a comfortable and positive experience from start to finish. If you are ready to explore the possibilities of breast enhancement, contact us at (516) 217-8120 to schedule your consultation with us in New York City, Southampton, Smithtown, Woodbury, Scarsdale, or Boca Raton.
Before and After Photos
About Breast Augmentation
Breast augmentation is one of the most popular cosmetic surgeries in the country, with over 300,000 procedures conducted annually. (1) Factors like genetics, pregnancy, weight loss, or simply dissatisfaction with the size and shape of the breasts can lead to feelings of self-consciousness in some women. As a result, many will seek breast augmentation advice from an experienced cosmetic surgeon.
Our team ensures precise implant placement that minimizes scarring using the mini-incision technique. We prioritize patient safety and satisfaction above all else, and our goal is to create beautiful, proportionate breasts that complement your natural contours. So whether you desire a subtle enhancement or a more dramatic transformation, our team is committed to providing exceptional care and natural-looking results.
Choosing the Right Implant
Implant Type
Breast implants come in the following options.
When it comes to implants, we exclusively work with Mentor and Sientra, the most reputable brands available. Considered the gold standard for breast implants, these are well-known for their quality and durability. Silicone implants are the first choice of most patients, but we will place saline implants upon request or for younger patients.
Implant Shape
Another consideration is the shape of the breast implants. Round implants provide fullness both in the upper and lower poles of the breast, resulting in a more rounded appearance. Teardrop-shaped implants mimic the natural slope of the breast, offering a more subtle and tapered look.
Implant Profile
Selecting the right profile is essential. Implant profile refers to how much the implant projects from the chest wall. High-profile implants create more projection and fullness, while low-profile implants offer a more subtle enhancement.
Implant Placement
Implant placement is another crucial decision to make. There are two options: submuscular (under the chest muscle) and subglandular (over the chest muscle). (2) Submuscular placement may provide a more natural look and decrease the risk of visible rippling or capsular contracture. Subglandular placement typically results in a shorter recovery time and less discomfort. 
We will guide you in selecting the right option to achieve your desired outcome. Our goal is to create natural-looking results that enhance your overall silhouette and boost your self-confidence.
Benefits of Breast Augmentation
Enhanced self-confidence and body image: Breast augmentation can help you feel more confident in your appearance and improve your overall self-esteem.
Corrected asymmetry: If you have naturally uneven breasts or congenital defects, breast augmentation can help correct these imperfections, creating a more symmetrical and aesthetically pleasing appearance.
Restored breast volume and shape after pregnancy or weight loss: Pregnancy and weight loss can cause a loss of breast volume and shape. Breast augmentation can restore fullness and rejuvenate your breasts.
Boosted clothing options and improved overall fashion choices: With enhanced breast size and shape, you will have more clothing options available to you, and you can confidently wear styles that may not have suited you before.
Improved overall quality of life: The positive impact on self-esteem, body image, and physical comfort can lead to an improved overall quality of life, allowing you to feel more confident and fulfilled in various aspects of your daily life.
At Greenberg Cosmetic Surgery & Dermatology, our expertise and dedication to patient satisfaction ensure that you will receive the highest level of care and achieve the desired results from your breast augmentation procedure.
Candidates
Candidates for breast augmentation are women who are looking to enhance the size and shape of their breasts. This procedure is suitable for individuals who:
Desire larger breasts
Have asymmetrical breasts
Have lost breast volume after pregnancy or weight loss
Want to improve the balance and proportions of their figure
To be an ideal candidate, you must be in good overall health and have realistic expectations for the outcome of the surgery.
Although a fast recovery time is almost universally appealing, the mini-incision approach will not suit every woman who wishes to enhance her bust line. During your consultation, we will listen closely to your goals and take careful note of the enhancements you wish to achieve, your body type, and other factors to determine whether you are a suitable candidate for the mini-incision approach.
We encourage you to schedule your personalized consultation at one of our several locations by calling (516) 217-8120. 
Personal Consultation
If you are considering breast augmentation surgery, we understand that you may have questions or concerns. We recognize that undergoing any surgical procedure can be a significant decision. That's why we prioritize patient education and communication.
Your breast augmentation consultation will involve an in-depth conversation with one of our renowned and board-certified plastic surgeons. During this initial appointment, you will be asked to talk about your cosmetic goals and expected outcome and will be invited to ask any questions you may have. This personalized approach ensures that every aspect of your procedure is tailored to your individual needs. At our practices, we use Vectra XT, a complete 3D imaging visual simulator tool. This is used to provide our patients with a visual image of themselves to explore their potential outcomes. You'll be able to see what a breast augmentation or other combined procedures can mean for your appearance with this illuminating technology. This is an essential way to ensure that you are making a well-informed decision and that you'll be able to look forward to results that satisfy your unique desires.
Preparation
Following your consultation, you will receive detailed preoperative instructions. These instructions will include guidelines on discontinuing blood thinners, supplements, and other medications as instructed. It is important to follow these instructions diligently to minimize any potential risks and optimize your surgical outcome.
Because sedation or general anesthesia is required for your surgery, ensure you coordinate a ride home and an escort to ensure your safety and comfort. It is important to arrange time off from work and social commitments to allow for adequate rest and recovery after your breast augmentation surgery. Following our postoperative instructions diligently will help minimize discomfort and promote a speedy recovery.
Breast Augmentation Procedure
Breast augmentation surgery can take a few hours to complete and will be performed under general anesthesia. After the anesthesia has taken effect, an incision will be created. The incision may be made under the crease of the breast (the inframammary incision), along the edge of the areola (the periareolar incision), or in the armpit (the transaxillary incision). Next, a pocket will be created under the glandular breast tissue or in front of the pectoral muscle. The implant will be placed into this pocket. Once the implant is properly positioned, the incision will be closed. After the other implant has been placed symmetrically, the chest will be bandaged. Although every breast augmentation procedure is different, most are complete in 1-2 hours.
Recovery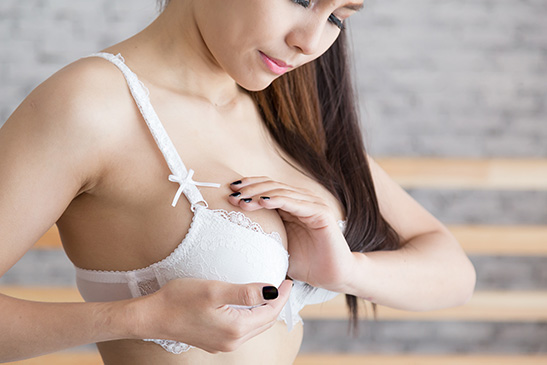 We will provide post-operative instructions to ensure a smooth healing process. The breasts will be wrapped in a supportive dressing to minimize swelling and provide the necessary support. It is normal to experience some degree of swelling, bruising, and discomfort initially, but these symptoms should gradually subside over time.
To manage swelling effectively, it is recommended to keep your upper body elevated while resting. This position helps to reduce fluid accumulation and promotes proper circulation. While it may be tempting to apply ice directly to the surgical area, it is important to avoid doing so as it can impede blood flow and hinder the healing process. Your surgeon will prescribe appropriate medication to manage any discomfort or pain you may experience.
During your recovery period, we will schedule regular follow-up appointments to monitor your progress and address any concerns you may have. These visits allow us to assess your healing and ensure you are on track to achieve your desired results. Depending on your specific circumstances, you may be able to resume work after approximately two weeks, unless your job involves strenuous physical activity.
Avoid engaging in rigorous activities or exercises for several weeks following surgery, as this can interfere with the healing process and compromise your results. It is crucial to follow instructions regarding activity limitations and gradually reintroduce physical exertion into your routine as advised.
Advantages of Rapid Recovery Breast Augmentation
Breast augmentation recovery traditionally requires considerable downtime and discomfort. The first 24 to 48 hours after surgery usually involved considerable pain and discomfort. With most breast augmentation procedures, bandages are required for as long as 10 days, during which patients are unable to return to work and have to avoid any activities more strenuous than simply moving around the house.
Twenty-four-hour rapid breast augmentation recovery, on the other hand, uses sophisticated new techniques that expedite healing and reduce pain and discomfort to an absolute minimum, and allow you to return to your regular day-to-day activities faster than ever before. With this ultra-modern approach to breast augmentation surgery, more than 90% of our patients are able to resume normal activities such as driving and going to work within 24 hours (patients are advised to avoid exercising during this time). In fact, more than 95% of our patients can raise their arms above their heads immediately after surgery in the recovery room – this is virtually unheard of in cases of traditional breast augmentation surgery. Meanwhile, more than 91% of our patients need only minimal pain medication following surgery to achieve a "normal" level of comfort.
After surgery, we will examine the surgical site and carefully place your compression garment. This garment will allow for a quicker recovery time by minimizing pain, bruising, and inflammation. Once released from our office, you will need someone to drive you home and stay with you for the first 48 hours. Your breasts may feel sore and swollen the first few days after surgery. You can expect a swift recovery if you follow your post-operative care instructions carefully. You should also be sure to:
Get enough rest and avoid any activities that could strain the pectoral muscles or surgical site
Attend all post-operative appointments
Take pain medication as prescribed to minimize discomfort
Apply ice packs to your breasts in 15-minute intervals to reduce swelling
Wear your compression garment as directed
Limit sodium intake to minimize swelling
Drink plenty of fluids
Walk daily to prevent blood clots
Avoid showering for two to three days, or until cleared by the doctor
Avoid alcohol and smoking for at least two weeks after surgery
Avoid tight-fitting clothing around breasts
Avoid driving until cleared by the doctor
​​Recovery Timeline and Results
While each patient is different, breast implant recovery typically takes about six months. Below is a brief timeline of what you can expect.
Week 1
Follow your post-op instructions to reduce inflammation and bruising. Return for your first follow-up appointment so Dr. Greenberg can monitor your progress and remove any sutures and drains. In most cases, patients can return to work by the end of the first week.
Week 2-3
Continue to ice and take your medication. However, you may discontinue wearing your compression garment. You should only experience mild soreness and swelling at this point. You can expect to begin gentle daily activities such as walking; however, you should continue avoiding strenuous activities.
Week 4-6
You should no longer experience any swelling at this point, and you will begin to notice your results becoming more apparent. If your recovery is progressing, Dr. Greenberg will allow you to return to more physically demanding activities.
Months 3-4
As your breast implants have settled, you will see a noticeable difference in their shape and size, revealing natural-looking results. At this point, your scars will also begin to fade.
Months 6-12
You should be completely healed and enjoying your final results. It is important that you continue to see us for your follow-up appointments, as well as undergo regular exams and mammograms to monitor the health of your breasts.
Results
Once fully recovered from your breast augmentation surgery, you will begin to notice the transformative effects. Your breasts will appear fuller, more symmetrical, and beautifully enhanced. Whether you have chosen Mentor implants or Sientra implants, our expertise ensures natural-looking results that complement your unique physique and let you celebrate your femininity!
Cost of a Breast Augmentation on Long Island
At Greenberg Cosmetic Surgery & Dermatology, we understand that financial considerations are an important aspect of any cosmetic procedure. We strive to make breast augmentation an affordable option for our patients by offering financing options.
To learn more about the cost of breast augmentation and to schedule your consultation, please call (516) 217-8120 or send us a message using this inquiry form.
Read Dr. Greenberg's blog for more information about our surgical, med spa, and dermatological services.
FAQ
What is 24-hour Rapid Recovery Breast Augmentation?
The 24-hour Rapid Recovery Breast Augmentation technique is an advanced approach that focuses on minimizing discomfort and downtime associated with traditional breast augmentation surgery. Through meticulous surgical techniques and the use of specialized instruments, this method aims to promote quicker healing and a faster return to daily activities.
Will breast augmentation affect breastfeeding?
Breast augmentation, when performed by an experienced plastic surgeon, should not hinder your ability to breastfeed. Incisions are carefully placed and techniques are employed to minimize disruption of the milk ducts and glands. However, it is important to discuss your plans for breastfeeding with your surgeon during the consultation so that appropriate considerations can be made.
References
Öztürk G, Beyazyüz E, Albayrak Y, Beyazyüz M. Favorable Personality Traits in Women Who Have Undergone Cosmetic Breast Augmentation Surgery. European Journal of Breast Health. 2021;17(4):308-314. doi:https://doi.org/10.4274/ejbh.galenos.2020.6276
Fardo D, Sequeira Campos M, Pensler JM. Breast Augmentation. PubMed. Published 2021. https://www.ncbi.nlm.nih.gov/books/NBK482206/