Post-Bariatric Surgery
Consultations offered at our six convenient locations in NYC, Long Island, Southampton, Smithtown, Scarsdale, NY and Boca Raton, FL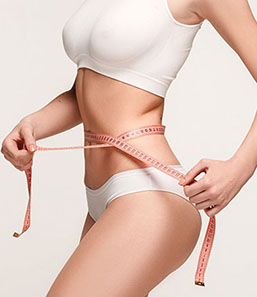 Bariatric surgery is a weight loss surgery that can leave your skin loose and hanging. Over the past few years, Dr. Greenberg has performed countless post-bariatric surgical procedures that have helped many individuals re-contour their body following a massive weight loss of 100 pounds or more! Patients who have had bariatric surgery, lapband surgery, or have experienced massive weight loss without surgery have achieved a significant accomplishment. Yet, they are often faced with a lot of very loose, hanging skin that can be extremely unattractive. There are many cosmetic surgeries available to help contour your physique after lapband or bariatric surgery and ensure you achieve the body you've earned! Complement your achievement with post-bariatric surgical procedures, offered through our Long Island practice.
Weight loss and bariatric surgery patients should be aware that body contouring may require surgeons to address the entire body circumferentially and not just one or two specific areas, as is the case with body contouring in more normal weight patients. For someone who loses 100 pounds or more in a short time, particularly after lapband or bariatric surgery, the patient often has sagging skin in a number of areas including the face and neck, breasts arms, abdomen, back and thighs. The skin and tissue from a bariatric surgery patient differs from other patients because the elastic tissues are usually permanently damaged from being stretched to an extreme degree. After weight loss or bariatric surgery, the patient's skin may still loosen and sag much faster with age. With body contouring, we can improve the shape of the skin, but we cannot improve the quality of the skin. Patients seeking body contouring after massive weight loss must be realistic in their expectations. The tissues will give over time, but not to the same degree as before.
Plastic surgery procedures should be considered only after your weight has stabilized after a lapband or bariatric surgery or other weight loss procedure. This is usually 18 months or more, depending on an individual's pre-operative weight. Performing a skin tightening procedure prior to weight stabilization may result in the need for further skin tightening in the future.
A variety of surgical procedures are often necessary and performed at different times. Depending on which area bothers you the most, the post-bariatric surgery is tailored to fit your needs, starting with the greatest area of concern.
Popular Cosmetic Procedures After Bariatric Surgery
To learn more about the many benefits of post-bariatric surgery procedures, contact our Long Island practice today.
Benefits
Significant weight loss is an achievement worth celebrating, but it can be disappointing when loose, excess skin affects your figure. Many bariatric patients have this concern, and should consider the benefits of post-bariatric plastic surgery. Performed by Stephen T. Greenberg, M.D., F.A.C.S in Long Island, NY, body contouring procedures offer substantial benefits for patients who have lost 100 pounds or more. The author of "A Little Nip, A Little Tuck," Dr. Greenberg has helped thousands of patients achieve greater body confidence. To schedule a personal consultation with Dr. Greenberg, please contact our Manhattan, Southampton, or Woodbury office today.
Cosmetic Concerns After Weight Loss
The skin on the body has natural, built-in elasticity to accommodate growth, pregnancy, and fat storage. When a large amount of weight is gained, the skin is stretched beyond normal capacity, and elasticity can be permanently damaged. After substantial weight loss with bariatric surgery, many patients are left feeling self-conscious and frustrated by the slack, hanging skin that remains.
Common areas of concern are the torso, hips, and upper legs, but can also include the arms and, particularly for men, the chest area. Many patients also experience skin sagging in the neck and lower face, which can have an unexpected, aging affect.
Physical Benefits
It is natural for weight-loss patients to want to show off their efforts in flattering, body-conscious clothing. A full body lift, arm lift, or thigh lift can be transformative for bariatric surgery patients. Body contouring procedures can permanently remove hanging, extra skin and unsightly bulges to smooth your curves and streamline your physique. A more proportionate, shapely figure can complete your weight-loss journey.
Greater Confidence
Simply put, post-bariatric surgery can help patients feel more comfortable in their own skin. By achieving a trimmer, more proportionate figure, many of our patients find they have the confidence to wear a bikini again or expand their wardrobe to include pieces that are more form-fitting. This can lead to emotional benefits like a greater sense of well-being that extends to impact several areas of your life.
Improved Health Issues
Excess skin can create several issues. This tissue may get caught in clothing, causing discomfort and pain. Folds of skin may lead to chafing, rashes, and in some cases, even create persistent infection. Post-bariatric procedures can restore the health and comfort of areas that are prone to these concerns.
Investing in a Trimmer Figure
Post-bariatric plastic surgery is not usually covered by health insurance, unless it is causing physical health issues like skin infections or chafing. To make cosmetic procedures more affordable, Greenberg Plastic Surgery offers CareCredit℠, which provides no-interest financing and other options.
Cost
The cost of a Post-Bariatric Surgery will depend on several factors. The price can be affected by body type, type of technique performed, surgical complications, and even allergies. Find out more by scheduling a consultation.
Schedule A Consultation
At Greenberg Plastic Surgery, we perform full body lifts and a range of targeted cosmetic surgery procedures for male and female weight-loss patients. A personal consultation with Dr. Greenberg is the best way to find out how post-bariatric plastic surgery can benefit you and help you achieve your goals. Please contact us today to schedule your appointment.