Facial Fat Transfer
Consultations offered at our six convenient locations in NYC, Long Island, Southampton, Smithtown, Scarsdale, NY and Boca Raton, FL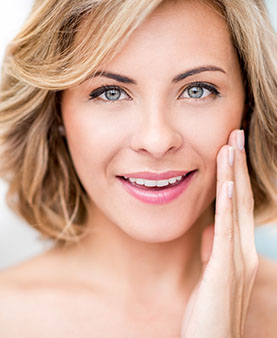 A facial fat transfer, also known as fat grafting, can restore a more youthful complexion, smoothing fine lines and wrinkles and improving contour. Over time, aging and environmental factors can impact the appearance of the face, resulting in lost volume and reduced definition.
At his Manhattan and Long Island, NY, offices, Dr. Stephen T. Greenberg can design a treatment plan tailored to your goals and natural facial features.
What is Facial Fat Transfer?
Also called fat grafting or fat injection, fat transfer is a simple and safe procedure, during which your doctor can transfer fat cells from one area of your body to another. When applied to the face, this surgery can refine and enhance the lips, cheeks, jaw, eyebrows, and under-eye area.
Like collagen, Restylane®, and Perlane® treatments, fat transfer is used to fill in facial creases, wrinkles, or other depressions in the skin caused by surgery, aging, acne, or trauma. Since this procedure uses fat from your own body, there is a reduced risk of infection and complications.
Areas of the Face Enhanced by Treatment
Fat transfer can restore a more youthful look to many areas of the face. As the lines of the forehead become more pronounced, a carefree look may be transformed into one of perennial worry, even when in the midst of a joyful occasion. Fat transfer can eliminate these lines, while also addressing hollowed undereyes that can make you appear tired.
Fat transfer enables patients to look more alert and refreshed, as well as address signs of aging by:
Adding fullness to thinning lips
Smoothing the appearance of scars
Contouring facial depressions or flattened areas of the face
Minimizing tear troughs around the eyes
Reducing downward lines and deep folds around the nose and mouth
Liposuction Process
The first step of the fat grafting treatment is liposuction surgery. Typically, fat cells are harvested from the hips, abdomen, buttocks, or thighs. During this procedure, Dr. Greenberg can numb the treatment area, and make tiny incisions to access the fat pockets. Using a slender tube called a cannula, he can gently suction the fat from the donor site. He can then close the incisions with sutures and place a bandage to promote healing. Next, our team will purify the collected fat in a special centrifuge, separating good fat cells and removing damaged cells.
The first step of facial fat transfer is liposuction, during which Dr. Greenberg can remove fat cells from the hips, abdomen, buttocks, or thighs.
Once ready, Dr. Greenberg can prepare the injection site. Using a syringe, he can layer fat cells at decreasing depths until volume and shape is restored to the desired areas. This technique helps to increase the survival of the cells in your graft. Injecting these cells requires skillful and strategic placement to ensure a natural look. With his technical expertise and artistic vision, Dr. Greenberg can help you achieve a more rejuvenated appearance that complements your facial contours. At least two access points are used for each area to assure a uniform and smooth transfer. Once Dr. Greenberg has determined that enough cells have been injected at the proper depth, the procedure is complete. No sutures are required for injection sites.
Fat Transfer vs. Dermal Filler
There are two methods of delivering a filler to the face, including injectable dermal fillers and fat transfers. Dermal fillers, such as Restylane® or JUVÉDERM® use a smaller amount of material, usually one to five cubic centimeters. The results are generally not permanent and treatment may need to be repeated in six to nine months, depending on the type of filler used. Over time, repeat injections for touch-ups can become costly.
A fat transfer uses cells harvested from your own body and can deliver up to 40 cubic centimeters of filler. This solution is safer and lasts longer, as you are less likely to develop allergic reactions or complications when using your natural cells. Results are dramatic, returning more youthful quality and texture back to the skin.
Consultation
Dr. Greenberg will meet with you during a personal consultation to discuss the details of the fat transfer procedure and review your unique goals. During your visit, he can determine if you are a good fat transfer candidate.
The fat transfer procedure is completed in multiple steps, and Dr. Greenberg can discuss staging your fat transfer procedures over several treatment sessions.
Recovery Timeline
THE FIRST TWO WEEKS
Normally, your surgery will be performed as an outpatient procedure, allowing you to return home the same day. After surgery, you may experience soreness, followed by some swelling, bruising, and numbness. To reduce swelling and avoid complications, you should keep your head elevated and refrain from any strenuous activity for the first week.
It is important to take any pain medication Dr. Greenberg prescribes as instructed. For the first few days, you can apply cold compresses, which can help to control swelling. However, do not apply ice directly to the surgical area.
You may wash your hair after 24 hours, but any hair dryers should be used on the lowest setting to avoid injury to the surgical sites. You may also apply makeup after two days.
After Dr. Greenberg removes your bandages at your first postoperative visit, you may experience slight bleeding at your incision site. This is normal and can be easily controlled by applying gauze and pressure. If bleeding persists or increases, contact our office for instructions.
Most swelling, tenderness, and bruising will disappear within a month and patients can expect to return to work within two weeks. Your face and neck may feel dry for a period of time, but our team can recommend a fragrance-free moisturizer to aid in healing.
THREE WEEKS TO A YEAR
Generally, patients are comfortable in public 10 to 20 days after their procedure, and any remaining bruising and swelling should disappear by the end of the first month. Numbness around your incisions is normal and should subside anywhere between several weeks to several months. There may also be some itching around your incisions, which should completely subside by the end of six months.
If you are not taking any narcotics for pain, you may resume driving whenever you are confident behind the wheel. For the first few months, you should refrain from any prolonged exposure to heat and sun, as well as saunas and steam baths. You should also avoid direct sunlight on your incisions for at least a year and protect your scars with a high-SPF sunscreen for at least six months.
Cost
The cost of your facial fat transfer at Greenberg Dermatology in New York will depend on the amount of fat needed, the extent of the work required, and other factors. Our team will be sure to go over the details of the expected price of your fat transfer and can answer questions regarding payment options and financing.
Contact
To learn more about fat grafting, contact Greenberg Dermatology today to schedule a consultation for your facial fat transfer procedure in New York. Dr. Greenberg can answer any questions you may have about the process and can let you know if you are a good candidate.
Fat transfer is used to fill in facial creases, wrinkles, or other depressions in the skin caused by surgery, aging, acne, or trauma.
FAQ
HOW LONG WILL MY BREASTS TAKE TO SETTLE?
Some patients settle in 2-3 weeks and sometimes it can take up to 3-6 months.

HOW LONG WILL I BE IN PAIN?
The pain is usually minimal and can be easily reduced with pain medication.
HOW LONG DO I NEED TO WEAR THE SPORTS BRA AND STRAP?
They should both be worn for 4 weeks, but can be removed as needed.
IS IT NORMAL TO FEEL BUBBLES AND AIR POCKETS?
Yes, it's very normal. It is air or fluid around the implant.
HOW LONG WILL IT TAKE FOR THE SCARS TO FADE?
The scars will fade in a couple of weeks.
HOW LONG DO I HAVE TO MASSAGE MY BREASTS FOR AND HOW MANY TIMES A DAY DO I DO IT FOR?
After your second week post-op you should massage 2-3 times a day for the next three months.
WHEN CAN I START WORKING OUT?
You may resume working out after 4 weeks.
HOW LONG DO THE STERI-STRIPS STAY ON FOR?
The steri-strips will fall off within 2 weeks after your surgery. Do not pull them off.
WHEN DO THE STITCHES COME OUT?
The stitches are dissolvable.
DO I HAVE TO FINISH ALL OF THE MEDICATIONS?
You must finish all the antibiotics and take all other medications as needed.
WHEN CAN I DRIVE?
You can drive two days after surgery as long as you are not on any pain medication.