Breast Lift and Reduction
Consultations offered at our six convenient locations in NYC, Long Island, Southampton, Smithtown, Scarsdale, NY and Boca Raton, FL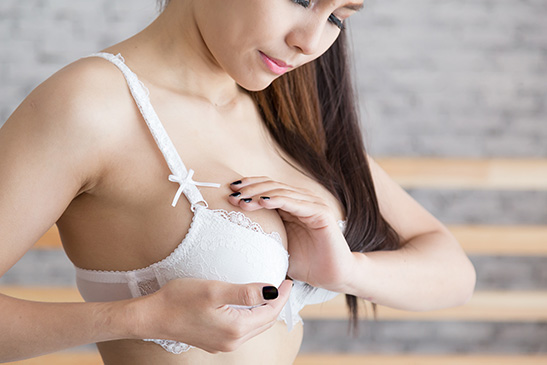 A breast lift and reduction is a surgical procedure in which lower breast skin and tissue is removed and the breasts are lifted and resized. The intricacies of breast development in women are vast, complicated, and have a large effect on how they see themselves. As a result of puberty, pregnancy, or simply aging, breasts go through extensive changes. The skin surrounding them is prone to stretching and sagging, especially if the body undergoes a significant weight change.
Large, cumbersome breasts can often be heavy enough to cause back and neck pain, as well as dictate a woman's clothing choices. Dr. Stephen T. Greenberg and his team of surgeons service the areas of New York City and Long Island, as well as Boca Raton, FL, providing expert solutions to excessively large breasts. 
Before and After Photos
To schedule a private consultation with us, you may fill out this form, or feel free to call your nearest office.
Woodbury, Long Island: (516) 217-8120
Boca Raton, FL: (561) 923-8661
All About Combination Breast Lift and Reductions
The shape and size of the breasts affects many different aspects of a woman's life. If they are unhappy with them, it can make them self conscious or uncomfortable, and it can also cause them discomfort. A combined breast lift and reduction can provide relief for women by restructuring and changing the size of their breast to one that is more comfortable and aesthetically pleasing.
Macromastia
Some patients with very large breasts have a condition known as macromastia. This condition is classified as an abnormal enlargement of the breast tissues, causing an disproportionate upper body contour. It commonly happens during puberty, and genetics can also play a role in the size of the breasts. Especially if the breasts develop at a rapid rate, this may lead to stretching of the skin of the upper pole. The excess tissue is heavy and can lead to a lifetime of discomfort for many women. The best way to treat this condition is breast reduction. (1)
Breast Lift and Reduction Techniques
During a breast lift (mastopexy), there are three commonly incision locations known as periareolar, vertical, and the inverted-T. (2)
Periareolar Incision
Known as the "donut" lift, this incision is used when the lift does not need to be dramatic or if the breast only has mild sagging
Vertical Incision
Also called the "lollipop" lift, a vertical incision is used when a more prominent lift is necessary. It also allows for more skin and tissue to be removed, which is necessary for a breast reduction. Dr. Greenberg will make the incision around the nipple and extend it down the bottom of the breast toward the natural crease (the inframammary fold).
Inverted-T Incision
Also called the "anchor" lift, the incisions used during this procedure are located around the areola, down the front of the bottom of the breast, and along the crease underneath. This technique is used to achieve the most dramatic effects, and is most commonly used to reduce the weight and size of the breast, while also allowing for repositioning of the nipple itself higher up.
After the incisions are made by Dr. Greenberg, he will then carefully remove tissue and skin from the lower third of the breast. Then the nipple is repositioned higher on the breast mound, and the incisions are closed. The end result is a higher, more structured, and smaller breast shape. (3)
Benefits of a Breast Lift & Reduction
Candidates for a breast lift and reduction achieve:
Lifted and smaller breasts
More structure and shape toward the top of the breasts
Reshaping of the breasts after weight loss or gain
Reduction and reshaping of the areola
Alleviation of back and neck pain
More confidence and clothing choices
Ideal Candidates for Breast Lift and Reduction
A breast lift and reduction may be beneficial to you if you experience any of the following:
You have breasts disproportionate to the rest of your body
You have pain in the shoulders, neck, or back
You experience sagging in the breast area
Your breast tissue and skin has stretched after weight change
There is indentation from bra straps or you have trouble finding clothing that fits well
You have skin irritation underneath or near the bottom of the breasts
If you are in good overall health with no serious health conditions, you may be a good candidate for a breast lift and reduction.
Personal Consultation
At your consultation, Dr. Greenberg will first examine your breast to determine the best way to go about your breast lift and reduction. He will make sure you are comfortable and knowledgeable about your treatment, so you can focus on the preparation. Dr. Greenberg will explain each incision option and every step of the surgery all the way through. This will prepare you well for the procedure and healing processes.
Preparation
To be fully prepared for your surgery, you must take the following steps:
Quit all consumption of tobacco products
Quit taking any blood-thinning medications (aspirin, ibuprofen, etc.)
Understand the limitations of the procedure and have realistic expectations about potential results
Find a trusted individual to take you home after the procedure
Procedure Details
After Dr. Greenberg preoperatively marks his incisions and maps out the sections of breast tissue that will be removed, we will move you to the operating room and put you under general anesthesia.
Once he makes his initial incisions, Dr. Greenberg proceeds to dissect skin and tissue using a cautery instrument. This prevents any serious bleeding and keeps the incisions clear. The tissue is removed in specific patterns to maintain the shape, and to predict the future projection and shape of the breast. Once Dr. Greenberg removes the planned amounts of tissue and skin, he sutures the initial incisions. Then he proceeds to suture all of the other incisions. They are then covered with surgical tape to secure them and ensure proper healing. (3)
The length of the procedure is dependent upon each patient's treatment plan and the technique performed, but the average duration of a breast lift and reduction is between 3-4 hours.
Recovery from Breast Lift and Reduction
Breast lift and reduction is typically an outpatient procedure.You will come back to Dr. Greenberg's facility to have your stitches removed 1 week later, and if any drains were placed during the procedure, those will be removed sooner, around the second or third postoperative day. You will wear a compression garment (surgical bra) to wear at all times for at least six weeks while you heal, and then proceed to wear a sports bra for support for another 2 months.
The recovery process for this combined procedure is usually around 1 week depending on the patient and the extent of the surgery. If you have a physically demanding job, you may need an additional week to rest before you return to work. With surgery, there is always a chance of swelling and bruising, but you should be able to keep comfortable with either medications prescribed by Dr. Greenberg or the use of over-the-counter medication.
Corresponding and Complementary Procedures
Liposuction
Often with breast procedures, especially reductions, liposuction can be used to remove unwanted or cumbersome fat from the breasts themselves or even other areas of the body. A small tool is used to separate fat from tissue and suction it from the area to contour and slim it. It is commonly used on the upper arms, abdomen, thighs, and many other areas. With a breast reduction and lift, the patient may have excess fat around the armpits, and liposuction can be used to smooth the creases found there. (3)
Tummy Tuck
A tummy tuck, or abdominoplasty, is a great accompaniment to a breast lift and reduction. It is a surgery that removes excess skin and fat from the abdominal area, while also tightening the abdominal muscles. Patients can experience a smoother, more toned abdomen alongside their new breasts, which may be part of a fully customizable mommy makeover. Together, we will help you find the most effective treatment for your needs.
Cost of Breast Lift and Reduction in Long Island
The cost of a breast lift and reduction is contingent on the specific patient's treatment plan. We will explain the projected cost at your first consultation. If you are interested in undergoing this procedure, or just want to know more about it, schedule an appointment, or call any one of the numbers listed below:
Woodbury, Long Island: (516) 217-8120
Boca Raton, FL: (561) 923-8661
FAQ
Can I combine breast reduction and breast lift surgery?
Yes, breast reduction and breast lift procedures can be combined into a single surgery for appropriate candidates. This combination approach allows for comprehensive rejuvenation of the breasts, addressing both size and position concerns. By combining the surgeries, patients can achieve more harmonious results and minimize overall recovery time. However, it is important to have a thorough evaluation with your surgeon to determine if you are a suitable candidate for this combined procedure based on your individual anatomy and goals.
Can a breast lift and reduction help with "bra fat"?
Your surgeon will assess the extent of sagging around the bra area. In many cases, liposuction can be used to remove excess bra fat around the breasts for a smoother, more aesthetically-pleasing contour.
References
Rahman GA, Adigun IA, Yusuf IF. Macromastia: a review of presentation and management. The Nigerian Postgraduate Medical Journal. 2010;17(1):45-49. Accessed October 17, 2023. https://pubmed.ncbi.nlm.nih.gov/20348982/
Ramanadham SR, Rose Johnson A. Breast Lift with and without Implant: A Synopsis and Primer for the Plastic Surgeon. Plastic and Reconstructive Surgery Global Open. 2020;8(10):e3057. doi:https://doi.org/10.1097/GOX.0000000000003057
Hall-Findlay EJ. Mastopexy and breast reduction. Plastic and reconstructive surgery. Published online March 27, 2015:530-548. doi:https://doi.org/10.1002/9781118655412.ch41
Breast Reduction Results. American Society of Plastic Surgeons. Accessed October 17, 2023. https://www.plasticsurgery.org/reconstructive-procedures/breast-reduction/results