Thigh Lift Surgery
Consultations offered at our six convenient locations in NYC, Long Island, Southampton, Smithtown, Scarsdale, NY and Boca Raton, FL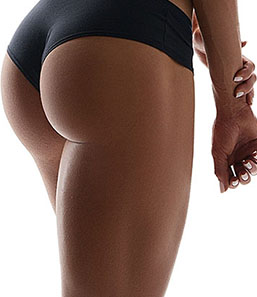 Enhance Your Physique and Your Confidence with a Thigh Lift

Even if you adhere to a vigorous workout routine, it may still be extremely difficult to eliminate stubborn fat and loose skin in the upper legs and thighs. Additionally, even if you are able to successfully lose weight, your thighs may still lack the tight and toned look that you desire. Expert cosmetic surgeon Stephen T. Greenberg provides a variety of world-class cosmetic procedures, including the thigh lift, at our Long Island, NY, practice. Slimmer, tightened thighs can boost your confidence and help you feel proud to show off your legs again.
Benefits
THIGH LIFT FACTS
Because of the variety of surgical techniques, Dr. Greenberg can personalize a thigh lift to meet patients' unique needs, making it a popular procedure among our patients. Choosing to enhance your figure with a thigh lift provides many benefits including:
Long-lasting results: If you maintain a healthy, stable weight and follow your postsurgical instructions carefully, you can enjoy results for many years.
Wider variety of clothing options: Slimmer thighs help clothes fit better and opens the door to new styles you may not otherwise wear.
Thigh gap: By reducing the amount of excess skin and fat around your thighs, you can increase your thigh gap to minimize chafing thighs and the risk of skin infections.
Weight loss: Removing heavy excess skin around your thighs not only reveals a more toned physique and shapelier legs, but can even produce a small amount of weight loss.
Increased physical activity: Exercising and daily activities will become easier once excess skin is removed, helping you to maintain a healthy lifestyle.
Better quality of life: Slimmer thighs can enhance your overall appearance and give you the ability to enjoy life freely and confidently. Increased confidence can improve your mental well-being, personal relationships, and professional success.
To produce even more dramatic results, Dr. Greenberg can combine a thigh lift with other body contouring procedures, such as liposuction or a butt lift.
Ideal Candidates
Good candidates for a thigh lift procedure typically:
Are committed to maintaining a healthy lifestyle through diet and exercise
Have achieved a stable weight
Are non-smokers
Do not have any medical condition that might increase the risk of surgery
Have excess, unwanted tissue along the thighs
Expectations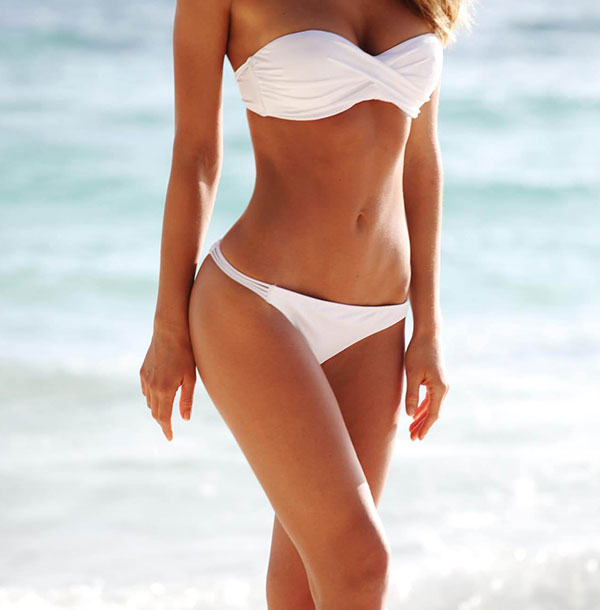 Recovery following your thigh lift is a gradual process, and the timeline will vary. Patients can typically expect to return to work after two or three weeks. During this time, patients must be careful when sitting on their thighs and should also wear a compression garment at all times. Most patients can expect to achieve full recovery within six to 12 months after surgery. Follow-up appointments are advised during this period. By carefully following the post-operative directions provided by Dr. Greenberg, you can expect a timely recovery and beautiful results.
Why Choose a Thigh Lift?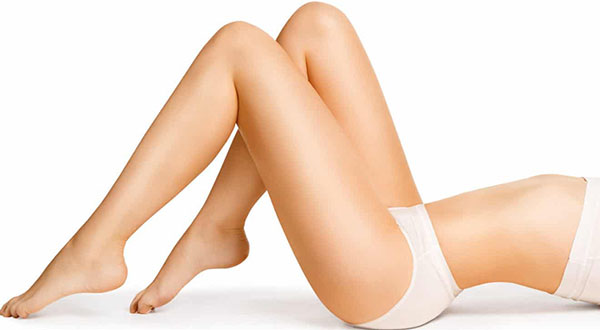 Surgical Techniques
During your consultation, Dr. Greenberg can explain various thigh lift techniques with you in further detail and determine which option would best achieve your goals.
Bilateral Thigh Lift
During this procedure, an incision is made along the upper portion of the leg, concealed just below the bikini line. In some cases, the incision may extend around the hip toward the buttock. Excess skin is removed before tissue is tightened, smoothed, and reattached. The procedure is typically performed on patients with excess skin on the upper or outer portions of their thighs.
Inner Thigh Lift
When treating excess skin on the inner thighs, Dr. Greenberg can make an incision along the upper leg where the thigh and pelvic bone meet. Skin and fat will be removed, and skin will be tightened to create improved contours and a smoother, more toned look. Typically, this procedure is a good option for patients with reduced skin elasticity resulting from aging or significant weight loss.
Medial Thigh Lift
Following extreme weight loss, patients are often dissatisfied with excess skin on the upper portions of the inner thigh. Similar to the inner thigh lift, this procedure requires an incision near the groin that extends around to the crease of the buttocks. Excess skin and fat is removed and then tightened to deliver a smoother, improved shape.
Cost
Tight, toned thighs help you look your best in everything from fitted jeans or shorts to lingerie. You may know that a surgical thigh lift can create contour and eliminate sagging skin, but wish to learn more about thigh lift cost. Our Long Island, NY, cosmetic surgery practice can explain the variables effecting cost and help you fit this life-changing treatment into your budget.
With three office locations in Manhattan, Southhampton, and Woodbury, plastic surgeon Stephen T. Greenberg, M.D., F.A.C.S is a well known cosmetic surgery expert and author of the book, "A Little Nip, A Little Tuck." For a personal consultation with the doctor, contact Greenberg Cosmetic Surgery today.
About Thigh Lifts
Thigh lifts are most often performed after a patient has lost a great deal of weight. Pregnancy or even genetics can also contribute to the appearance of loose skin on the inner or outer thigh. A permanent loss of elasticity can cause sagging or drooping that simply cannot be reversed with diet or exercise.
Beautiful legs are certainly an asset, and adapting to unwelcome changes or the disappointing aftereffects of weight fluctuation can impact your self esteem. For many women, a thigh lift can greatly enhance overall body confidence.
During the thigh lift procedure, extra skin is removed through incisions in the bikini line and buttocks area. Sometimes liposuction is also used to remove stubborn, excess fat, contributing to a sleek, more toned appearance.
Determining Cost
As any reputable plastic surgeon will tell you, each case is unique because no two patients have the same body type or treatment goals. In addition, there are differing levels of skill and experience, and Dr. Greenberg's high level of training has earned him a reputation for consistently beautiful results.
Stephen T. Greenberg, M.D., F.A.C.S

As any reputable plastic surgeon will tell you, no case is the same because no two patients have the same proportions or treatment goals […] Our office offers financing options, including traditional credit cards and CareCredit, which allows patients to make interest-free payments.
Thigh lift costs will vary depending upon the patient's desired results, for example, whether or not liposuction is included and to what extent. Other factors that generally effect the cost of a thigh lift may include:
Hospital Fees – Patients of Dr. Greenberg do not need to worry about hospital costs. All of our face, breast, and body procedures are performed in our Manhattan and Long Island ambulatory surgery centers. These state-of-the-art, in-house centers help us keep patient costs lower.
Anesthesia – A certified anesthesiologist will ensure optimal patient comfort and safety during the procedure.
Medications and Post-surgical Care – Some patients require pain medication or prescription antibiotics, while others may request additional assistance during their recovery period.
Investing in Your Confidence
Dr. Greenberg is committed to assisting patients who would like to fit cosmetic treatment into their budget. Our office offers financing options, including CareCredit℠, which allows patients to make interest-free payments. Body confidence can make such a difference in a patient's overall well-being, and many feel improving their appearance is a worthwhile investment.
Surgery Timeline
First 24-48 Hours
Immediately following surgery, you will need to have someone available to drive you home and assist you due to the heavy sedation. It is not uncommon to experience soreness, swelling, and bruising during this time, but taking your medications as prescribed, keeping your legs elevated, and wearing your compression garment can help minimize discomfort. The day after surgery, it is recommended to attempt intervals of light walking to prevent blood clots.
Weeks 1-2
When moving your legs, walking, and sitting, you should be mindful not to disrupt the incisions. Approximately 10 days after surgery, Dr. Greenberg can remove your sutures and examine you for any signs of infection. He will also instruct you how to shower and clean your incisions to minimize scarring.
Weeks 5-6
Most patients can resume daily routines and light physical activity during this time. However, it is not uncommon to experience low energy levels until about week six. As you return to normal activity and soreness subsides, you should notice an improvement in the way you feel. The key to achieving a smooth recovery is maintaining a healthy balance between resting and light activity without overdoing it.
Weeks 7-8
During this time, soreness and swelling should be minimal and you can enjoy full physical activity and your newly reshaped thighs. Following your postsurgical instructions on incision care and sun exposure can help minimize scarring and ensure you achieve optimal results.
Schedule a Consultation
If you are interested in learning more about thigh lift surgery, contact our office online or call us at 844-568-6717 and schedule your consultation. With Dr. Greenberg's experience and guidance, you can expect to achieve bust enhancement with minimal scarring.