Laser Skin Resurfacing
Consultations offered at our six convenient locations in NYC, Long Island, Southampton, Smithtown, Scarsdale, NY and Boca Raton, FL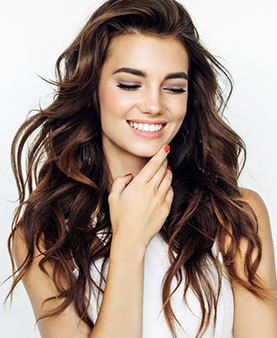 Rejuvenates Damaged and Wrinkled Skin
Stephen T. Greenberg, M.D., F.A.C.S provides laser skin resurfacing at his offices serving Long Island, NY, Manhattan, and the greater New York City area. This non-surgical skin treatment can provide significant results with little downtime. New skin cells exposed from laser skin resurfacing give you a younger-looking appearance. Your skin will be smoother, tighter, and pigmentation will be more even.
What is Laser Skin Resurfacing?
In laser skin resurfacing, sometimes called "laser peel," a carbon dioxide (CO2) laser is used to remove areas of damaged or wrinkled skin, layer by layer. The procedure is most commonly used to minimize the appearance of fine lines, especially around the mouth and the eyes. Laser resurfacing, is also effective in treating facial scars or areas of uneven pigmentation. Laser resurfacing may be performed on the whole face or in specific regions. Often, the procedure is done in conjunction with another cosmetic operation, such as a facelift or eyelid surgery.
How Does it Work?
Laser resurfacing works by stripping away wrinkles and scars with a beam of laser energy. The laser is moved back and forth over the desired area, vaporizing the upper layer of skin cells. Laser resurfacing penetration can vary between light, medium, or deep depending on the results you want.
Once the upper layer of skin cells is vaporized, new skin cells are formed as the skin is healing. These new skin cells give you a younger-looking appearance. Your skin will be smoother, tighter, and pigmentation will be more even. Depending on the area involved, laser resurfacing takes anywhere from a few minutes to one hour to complete. This facial cosmetic treatment is completed at our fully licensed and accredited ambulatory centers.
Expectations
After your laser resurfacing treatment, Dr. Greenberg may provide creams or bandages to protect your healing skin. You will probably experience some mild swelling and discomfort which can be controlled with medications or ice packs. Bandages will be removed in about a week and an ointment will be applied. Your skin may begin to crust and it is important that you do not pick the crust off. Your skin may be red or bright pink for several weeks.
Two of the most important post-operative recommendations you'll need to follow are to minimize your time in the sun and, if you must go out in the sun, to always use sun protection. Sun block, a hat, and sunglasses are a must to prevent any further sun damage and to maintain your laser resurfacing results. Patients should notice smoother, fresher, beautifully rejuvenated skin within several months.
Consultation
Dr. Greenberg will meet with you in one of his state-of-the-art offices in Manhattan and on Long Island. He will examine your skin, take your medical history and explain the laser resurfacing process in detail. He will answer all of your questions and determine if you are a good candidate for the laser resurfacing procedure.
Good candidates for laser resurfacing are people with facial wrinkles localized around the eyes or mouth or acne scarring. These areas are easy to target with the laser. People who are not good candidates for laser resurfacing are individuals who:
Have taken the drug Accutane in the past 12-18 months
Are prone to abnormal scarring
Have active skin infections
If you have olive, brown or black skin, laser resurfacing may put you at risk for pigmentation changes. Dr. Greenberg will evaluate your skin and help you decide if laser resurfacing is right for you.
Dr. Greenberg is one of the first cosmetic surgeons in New York to offer a unique combination of "same day," micro-fractional laser treatments for total skin rejuvenation. This skin rejuvenation process is remarkable because of its unique ability to offer the most complete array of laser, light-based modalities. The Artisan technology provides the foundation for Dr. Greenberg's success in resurfacing and tightening the skin as well as reducing age spots, wrinkles, stretch marks and acne scars.
Cost
The cost for Laser Skin Resurfacing will depend on several factors. The number of sessions will influence the final price, as will the severity of the cosmetic issues being addressed.
Contact
To learn more about the treatment of Plastic Surgery Packages in Long Island, contact us and schedule a consultation with board-certified plastic surgeon Dr Greenberg.