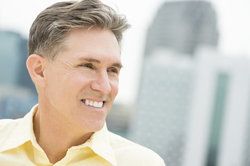 A full head of hair is often associated with youth and good health, regardless of a person's actual age or well-being. It can therefore be discouraging to witness the slow recession or loss of your hair, especially when you still feel youthful and vital. To counter this problem, Dr. Greenberg offers the use of his NeoGraft™ machine for easy and effective hair restoration. For a hair transplant that will leave you with satisfying and long-lasting results, consider the benefits of this procedure, as provided through our Manhattan and Long Island offices.
What Is NeoGraft™?
The NeoGraft™ hair restoration technique utilizes follicular unit extraction (FUE) to transplant individual hair follicles from one area of the head to another. Through this method, Dr. Greenberg can fill in areas of baldness or thinning with little to no impact on the rest of the head's appearance. In contrast with follicular unit transplantation (FUT), this technique is minimally invasive and provides much more versatility in which follicles are transplanted.
How Does NeoGraft™ Work?
The NeoGraft™ procedure is simple yet highly effective:
First, local anesthesia will be administered, making the process pain free.
The device will then be used to extract follicles from the donor area – usually the side or back of the head, where hair is thickest. It will rotate around each follicle while exerting pneumatic pressure to extract it, collecting one to four strands at a time.
When the appropriate amount of hair has been collected, each follicle will be implanted in the target area. Because they are implanted individually, the doctor has precise control over your new hairline.
Once complete, you may head home to relax with minimal side effects. Most patients return to work and normal activities within 24 hours.
Candidates for NeoGraft™
Most patients who want to achieve a fuller head of hair are good candidates for a NeoGraft™ transplant. As long as there is ample hair remaining elsewhere on the head, it can be more evenly distributed for an improved look. The NeoGraft™ technique carries very few risks and contraindications, making candidacy relatively easy. To see if you qualify for treatment, meet with your plastic surgeon for a personal consultation.
Are the Results Permanent?
Since the hair follicles – and not just the hair strands – are transplanted, you will continue to grow new, healthy hair in the target areas. In this way, NeoGraft™ results are potentially permanent. However, the procedure does not stop progressive baldness, and patients should expect hair loss to continue over time at a natural rate. Depending on the speed of hair loss and extent of the transplant, some patients may opt for a follow-up transplant in the future.
Benefits of NeoGraft™ Treatment
Unlike FUT restoration, FUEdoes not require any scalpels, incisions, or similarly invasive methods. The simplicity and low-risk nature of NeoGraft™ treatment provides multiple benefits to patients:
No scarring: Other transplant methods require the removal of a strip of your scalp, resulting in a visible scar. Since NeoGraft™ requires no incisions, there are no lasting effects on your skin. Additionally, if you have a scar left from a previous transplant procedure, NeoGraft™ may be able to reduce its appearance by up to 50 percent.
Minimal recovery: Alternative transplant techniques result in sutures and weeks of recovery. NeoGraft™ patients require very little downtime and can resume their daily tasks the very next day with mild, if any, side effects.
Effective results: Your hair can be transplanted exactly as you want through the NeoGraft™machine's efficiency and precision. Coupled with Dr. Greenberg's skilled hand, your results will benefit from pinpoint accuracy.
Preserved follicles: In between extraction and transplantation, hair follicles are protected and preserved in the machine, keeping them healthy throughout the procedure.
Contact Us!
Whether you are only beginning to see the effects of hair loss or are well into a pattern of baldness, our NeoGraft™machine can help you. Schedule a consultation with Dr. Greenberg to see exactly what you can expect from this worthwhile procedure.