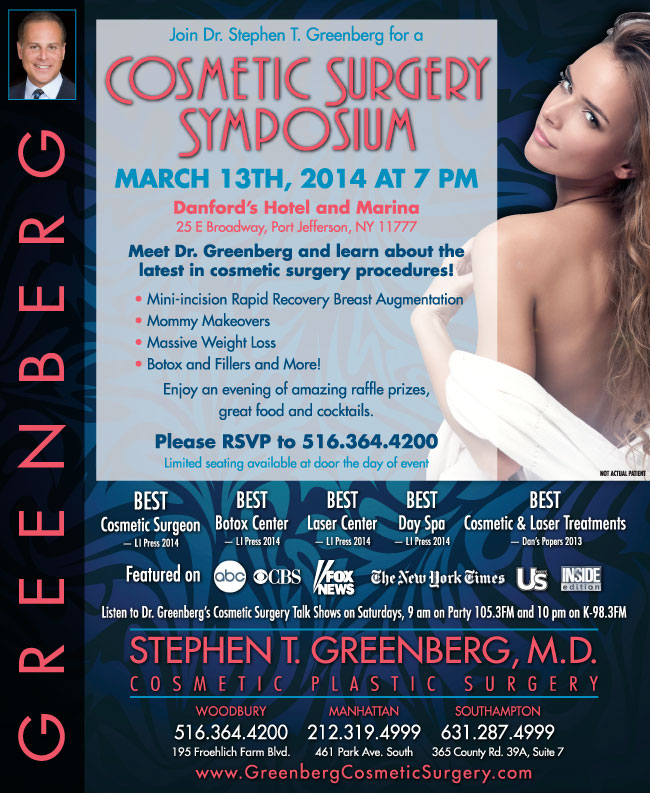 Join Dr. Stephen T. Greenberg for a Cosmetic Surgery Symposium and Cocktail Party
March 13th at 7 pm • Danford's Hotel & Marina
Meet Dr. Greenberg and learn about the latest in cosmetic surgery procedures!
Mini-incision Rapid Recovery Breast Augmentation
Mommy Makeovers
Massive Weight Loss
Botox and Fillers
and More!
Enjoy an evening of amazing raffle prizes, great food and cocktails.
RSVP to 516.364.4200
Limited seating available at door the day of event
Best Cosmetic Surgeon
— LI Press 2014
Best Botox Center
— LI Press 2014
Best Laser Center
— LI Press 2014
Best Day Spa
— LI Press 2014
Best  Cosmetic & Laser Treatments
— Dan's Papers 2013
Featured on ABC, CBS, FOX NEWS, THE NEW YORK TIMES, US, INSIDE EDITION and more
Listen to Dr. Greenberg's Cosmetic Surgery Talk Shows on Saturdays, 9 am on Party 105.3FM and 10 pm on K-98.3FM
STEPHEN T. GREENBERG M.D.
COSMETIC PLASTIC SURGERY
Woodbury
516.364.4200
195 Froehlich Farm Blvd.
Manhattan
212.319.4999
461 Park Ave. South
Southampton
631.287.4999
365 County Rd. 39A, Suite 7
www.GreenbergCosmeticSurgery.com