MiraDry
Consultations offered at our six convenient locations in NYC, Long Island, Southampton, Smithtown, Scarsdale, NY and Boca Raton, FL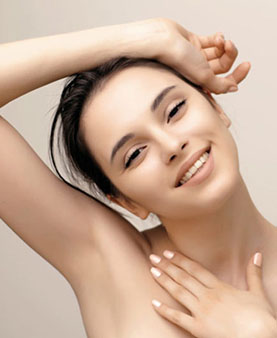 Enjoy freedom from embarrassing underarm sweat. Are you bothered by your underarm sweat? Do you frequently apply antiperspirant? Are you frustrated over constantly ruining clothes? Are you worried about underarm sweat outbreaks? Now, there is a lasting solution that can make embarrassing sweat a thing of the past.
The miraDry procedure is quick and non-invasive. The miraDry System delivers precisely controlled energy to the region where the underarm sweat glands reside, and eliminates the sweat glands non-invasively. Because the sweat glands do not come back or regenerate after treatment, the results are lasting. And, results are fast – you can expect to see sweat reduction immediately after treatment, with minimal to no downtime.
Procedure
The miraDry procedure uses the only non-invasive technology that is FDA cleared and clinically proven to dramatically reduce sweat and provide lasting results. Now there is a lasting solution to sweat control that doesn't use harsh chemicals, toxins or surgery.
Advantages
Lasting results
Dramatic reduction
Immediate results
Non-invasive
Toxin-free
Minimal to no downtime
Quick in-office procedure
Cost
The cost for Miradry will depend on several factors. The number of sessions will influence the final price, as will the severity of the cosmetic issues being addressed.
Contact
To learn more about the treatment of Miradry in Long Island, contact us and schedule a consultation with board-certified plastic surgeon Dr Greenberg
FAQ
What Is The Miradry Procedure?
The miraDry procedure is quick, non-invasive and provides a lasting solution for excessive underarm sweat.  The handpiece from the miraDry System, when placed on the underarm, delivers precisely controlled energy to the region where the sweat glands reside and eliminates sweat glands non-invasively. The sweat glands don't grow back once eliminated, resulting in a dramatic and lasting reduction of underarm sweat.
What Is The Procedure Like?
The procedure involves no surgical incisions or cuts. The clinician customizes treatment for each underarm area with multiple placements of the miraDry handpiece. Local anesthesia is administered to the underarms prior to the procedure to maintain comfort. Your office visit appointment will generally last about an hour.  Two procedures spaced three months apart are required to maximize the results and duration.
What Happens After The Procedure?
There is minimal to no downtime following the procedure. Your doctor will likely recommend a mild over-the-counter pain medication and use of ice packs for a few days. You should be able to return to normal activities or work right after the procedure, and you can typically resume exercise within several days. Some localized soreness or swelling is normal, and typically clears within a few weeks.  Some patients have short-term altered sensation in the skin of their underarms or upper arms, which gradually disappears.